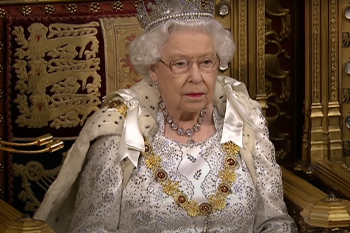 The Queen's Speech has said proposals on social care reform will be brought forward – but it fell short of a commitment to legislation in this Parliament.
Despite Boris Johnson's commitment to social care reform from the start of his premiership, a cryptic line in the speech still leaves local government waiting for a solution to the crippling cost of care funding.
Amid promises of voter ID legislation and changes to fixed term parliament rules, there was a hint of more constitutional reform as the Government promised to 'restore the balance of power between the executive, legislature and the courts'.
And in dig towards Scotland's independence ambitions, the Queen added: 'My Ministers will promote the strength and integrity of the union. Measures will be brought forward to strengthen devolved Government in Northern Ireland.'
The state opening of Parliament saw levelling up placed firmly at the heart of the agenda, with recovery from the pandemic centre-stage.
The Queen said: 'My Government will level up opportunities across all parts of the United Kingdom, supporting jobs, businesses and economic growth and addressing the impact of the pandemic on public services.'
But there was a hint of austerity to come, with the promise the Government would 'ensure that the public finances are returned to a sustainable path once the economic recovery is secure'.
There were proposals to create jobs, invest in infrastructure and improve transport and broadband connectivity. A 'lifetime skills guarantee' and a commitment to ensuring children catch up on their education.
Elsewhere in the levelling up agenda, there was a promise to support business to drive economic growth, and a commitment to creating trade hubs around the eight freeports. Investment in green jobs combined the levelling up agenda with a commitment to hit net zero greenhouse gas emmissions by 2050 in the run up to COP 26 as part of the Environment Bill dropped during last parliament.
And the Government that has been mired in controversy surrounding COVID commercial contracts has said it will simplify procurement. Expected planning legislation has made an appearance, in an effort to build more homes, as well as reform leasehold legislation and the promise of a Building Safety Regulator.
The speech promised a technological revolution in the NHS, with more tailored prevention, closer to home, along with plans to tackle obesity and mental health, as well as the promise that 'proposals on social care reform will be brought forward,' the Queen said.
It offered investment in R&D in the aftermath of the success of the COVID vaccine, to pioneer new medical treatments and boost jobs.
Solace president Joanne Roney said it was 'it is not only disappointing but disconcerting' that social care reforms had been further delayed. She claimed the country could not 'continue to bury our heads in the sand' and said it must be addressed 'along with a genuinely sustainable financial settlement for local government.'
Local Government Association chairman, Cllr James Jamieson said: 'We are pleased that proposals on social care reform will be brought forward but we urgently need a clear timeline.' He also called for 'concrete funding proposals, and added: 'We cannot keep kicking this can down the road.'
Other measures included:
Measures to address racial and ethnic disparities, and ban conversion therapy
Cuts to bureaucracy for the voluntary sector
Legislation to promote high standards of animal welfare.
Increased sentences for serious offenders
Changes to immigration that 'strengthen' UK borders
Increasing internet safety