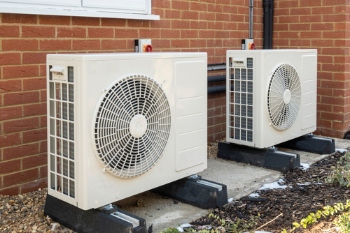 Hundreds of public buildings across England are to be upgraded with low carbon heating and energy efficiency measures as part of the effort to cut the use of expensive fossil fuels.
The Department for Business, Energy & Industrial Strategy (BEIS) today announced that £553m will be made available through the Public Sector Decarbonisation Scheme to fund 217 clean heat and energy efficiency projects.
The Public Sector Decarbonisation Scheme supports the aim of reducing emissions from public sector buildings by 75%, compared to 2017 levels, by 2037. Today's funding is the first part of an overall £1.425bn due to be allocated through Phase 3 over three years until 2025.
BEIS estimates that local authorities, public bodies and taxpayers will save an average of £650m per year on energy bills over the next 15 years.
'Using cleaner technology to heat our civic buildings is helping to shield public sector organisations from costly fossil fuels, especially at a time of high global prices,' said business and energy minister Lord Callanan.
'This funding will bring significant savings for taxpayers of well over half a billion pounds each year by making public buildings cheaper to run, heat and cool, whilst supporting economic growth and jobs across the country.'