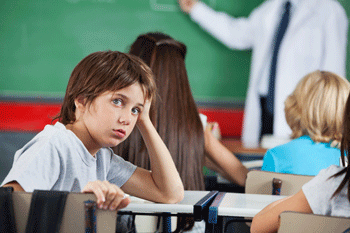 Families are on low incomes are four times more likely than wealthier families to send their child to a struggling primary school, new research has revealed.
Analysis of Ofsted figures by charity Teach First has highlighted the inequality of school choices facing the poorest families.
It shows the poorest families have less than half the chance of sending their child to an outstanding primary school when compared to the wealthiest families.
Areas that have the highest proportion of 'Outstanding' rated schools, also have average monthly rental costs of more than double compared to areas with the lowest proportion of these schools.
'Every parent wants the best for their child, but as the costs of housing have soared over the years, parents from low income backgrounds face an unequal choice to ensure that their children's school offers what's best for them,' said CEO of Teach First, Brett Wigdortz. 'Outstanding schools are unfairly concentrated in areas of wealth.'
He added: 'We know that primary teachers up and down the country are doing an incredible job of supporting their pupils from day one, by sparking their creativity and imaginations. But for children from poorer backgrounds, there are still challenges that must not be ignored.'
The figures reveal that Blackpool, the Isle of Wight and Thurrock only have one outstanding primary school each, while in Bradford and Kent, one in three schools serving the poorest 20% of postcodes requires improvement by Ofsted.