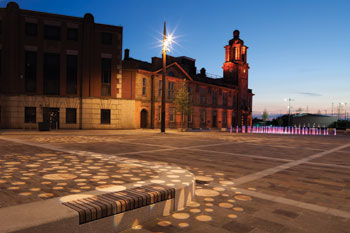 History does not have to remain stuck in the past, as Sunderland's Keel Square, a celebration of the city's maritime and industrial heritage, demonstrates.
When Sunderland developed out of three medieval settlements during the Industrial Revolution, the city centre was laid out in a grid around the historic high street. A square was never incorporated into the centre's design.
Sunderland City Council, however, decided it was time the city had its first major civic space and Keel Square, was the result.
The new space has been designed to complement the adjacent Grade II listed Magistrates Court and provides what the council describes as a 'smooth pedestrian transition' between the Vaux site and the retail centre.
As a celebration of the city's maritime heritage, the square has running through it a 292m line which represents the Naess Crusader, the longest ship ever built on the Wear.
The Keel Line has the names of the 8,102 ships built in Sunderland's shipyards since 1786. They were etched onto the flag stones by the artist Bryan Talbot, author of the graphic novel Alive in Sunderland.
At one end of the Line, there is a sculpture of a giant propeller made of glass and bronze - called 'Propellers of the City' – which bears the faces of over 300 shipyard workers.
The lighting columns and bins in the square, which are accompanied by a fountain with in-ground 'dancing' jets, stick with the shipping theme. The former are clad in timber with bronze bases and the latter are reminiscent of a dorade box found on a ship's deck.
The scheme has proven to be a catalyst for the development of key sites in the city centre. The first phase of the Vaux site, the major employment site in the centre, is nearing completion.
A hotel, travel shop and police station are also looking to move to the centre.
Submitted by: Kevin Johnson, principal landscape architect, Sunderland City Council
Design and contract administrators: Sunderland City Council Landscape Design Services and Highways Engineers
Contractor: Balfour Beatty Construction
Public art consultant: Broadbent Studios
Lighting consultants: Balfour Beatty Living Places
You can visit the Street Design Awards website for further details about the competition.