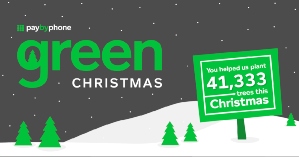 PayByPhone is donating 41,333 trees in its local authority clients' names to mangrove projects in Madagascar under its Green Christmas seasonal initiative that supports reforestation and provides essentials such as medicines and food to villagers.
Green Christmas usually turns PayByPhone's December parking transaction numbers into trees, but because of the pandemic and the Tier system, people will not be out as much as usual.
Anthony Cashel, Marketing and Operations Director at PayByPhone UK, says, "The environment and the communities in which we work are exceptionally important to us, which is why we have decided to base our Green Christmas calculations on the month with our highest transaction figure this year – October. We aren't going to let the pandemic impact the good we try to do at this time of year."
Green Christmas is run in partnership with Eden Reforestation Projects, an NGO that preserves the world's rapidly disappearing forests. The not-for-profit works directly with communities in developing countries suffering from extreme poverty resulting from deforestation.
PayByPhone also runs multi-award-winning carbon footprint reduction initiative, Meters for Trees, that was launched in spring 2019. It supports reforestation in the Amazon Rainforest through the Portel-Pará REDD project, which is a Verified Carbon Standard (VCS) audited project. For the boroughs who have signed up to Meters for Trees, PayByPhone will donate double the number of trees under its Green Christmas initiative.
"Our cashless parking payment technology helps councils reduce their carbon emissions by removing the need for collection and maintenance vehicles, which drive thousands of miles per year to collect cash and to repair machines." adds Cashel.
PayByPhone achieved Carbon Neutral Plus status in 2020, meaning it is now carbon negative.
For more information about Green Christmas please visit www.paybyphone.co.uk/GreenChristmas and for details on Meters for Trees, visit www.metersfortrees.co.uk