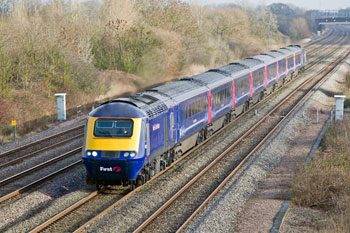 The Prime Minister has been urged to get behind a multi-billion pound plan to 'supercharge' the Midland's economy by reforming its rail network.
The transport body Midlands Connect today launched its Midlands Engine Rail, a £3.5bn improvement programme to transform the region's rail network.
Set to be delivered in stages from 2022, the plan aims to create space for 736 more passenger trains on the network each day and will be fully integrated with HS2.
Up to 60 locations could benefit from improved services, including Birmingham, Leicester, Coventry, Nottingham, Derby, Stoke-on-Trent, Crewe, Shrewsbury, Lincoln, Worcester and Wolverhampton.
Midlands Connect is calling on the PM to invest £45.5m into the plan.
'In the Midlands, more people are travelling on the railways than ever before,' said John Peace, chair of Midlands Connect and Midlands Engine.
'We now need investment from Government to allow our people, businesses and infrastructure to reach their full potential, and to drive a further boost in passenger numbers.
'Midlands Engine Rail is essential in creating a more sustainable, productive and mobile Midlands.'
'My message to the Prime Minister is clear; it's time you made a long-overdue commitment to the future of our rail network,' he added.
'Ten million Midlanders are counting on you; invest in their futures, turn our vision into reality, back Midlands Engine Rail.'
Robert Nisbet, director of nations & regions at the Rail Delivery Group, which represents rail companies, commented: 'Millions of train journeys are made in the Midlands every week and rail companies are working together to improve services, with new and refurbished trains being introduced to run more services.
'Further investment as part of Midlands Engine Rail will improve journeys for passengers between towns and cities across the region and power economic growth by unlocking new business opportunities.'