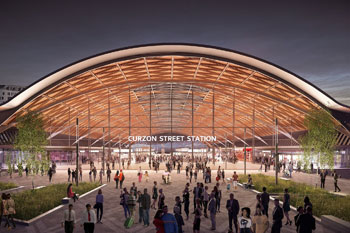 New plans submitted to the review of the controversial HS2 scheme propose directly connecting the city centres of Birmingham and Nottingham and Leicester and Leeds with high speed trains.
The plans, submitted to the Department for Transport and the HS2 Oakervee review by the sub-national transport body Midlands Connect, propose making changes to the junction at the East Midlands Hub at Toton.
Under the current plans, passengers would have to use the existing network to travel to Toton before changing on to an HS2 train.
However, Midlands Connect's proposals make direct services possible using new conventional-compatible trains that can travel along both high speed and electrified tracks, allowing them to call at both new HS2 and existing stations.
The cost of the proposed changes would be about £170m. Midlands Connect, however, argues that the economic benefits would be at least £1.4bn derived from savings on journey times.
The proposals would see the Nottingham-Birmingham journey time more than halved to just 33 minutes (currently 72 minutes) and the Leicester-Leeds journey time slashed from two hours to just 46 minutes.
'Now we have more clarity over the costs and timescales of HS2, is it time that the true benefits of high speed rail are also fully understood to make sure the project goes ahead in its entirety,' said John Peace, chair of Midlands Connect and Midlands Engine.
'Our proposals are a genuine game changer for connections between the East Midlands and West Midlands and on to the north of England, revolutionising the way regions do business with each other and demonstrating that HS2 will spread the economic benefits far beyond the cities with a dedicated station.'
'We are working closely with HS2 Ltd and the Department for Transport to develop our compelling business cases, and submitting our findings to the HS2 Oakervee review.
'We are sending a strong message to the Government that delivering HS2 in its entirety is absolutely essential to the future economic success of the whole of the UK.'
HS2 will be delayed by several years and is over budget by at least £25bn.
Last month, the transport secretary Grant Shapps published the terms of reference and timetable for an independent review into the project, which will be led by former HS2 Ltd chairman Douglas Oakervee.