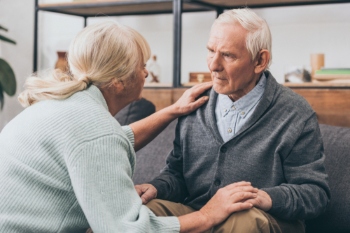 Improving early diagnosis for the hundreds of thousands of people with dementia could lead to over £3bn in savings through reduced healthcare usage and lower carer costs, report says.
The research programme Future Health has warned of a 'postcode lottery' when it comes to the diagnosis of dementia, a situation made worse by the pandemic.
The programme's researchers calculate that over 300,000 people living with dementia in England go undiagnosed. They also estimate that the pandemic has seen a reduction in the proportion of patients receiving a diagnosis, with the number falling below 60%.
In their report, Levelling Up Dementia Diagnosis, Future Health called for an end to regional disparities when it comes to identifying the disease.
The Midlands is home to the highest number of undiagnosed people with dementia, with over 60,000 people with the condition not yet diagnosed, according to the report.
London and the North West have the lowest number of undiagnosed people living with dementia but both regions still have over 30,000 people undiagnosed.
Richard Sloggett, founder of Future Health and a former special advisor in the Department of Health and Social Care, said: 'The pandemic has set back the progress made on dementia diagnosis rates and urgent action is now needed to support recovery.
'The forthcoming dementia strategy must tackle regional disparities, particularly in how patient access to a diagnosis in rural areas can be improved. New targets, investment in diagnostics and technology along with a public health campaign can all help deliver a dementia diagnostic recovery that ensures patients get access to the treatment, care and support they deserve.'