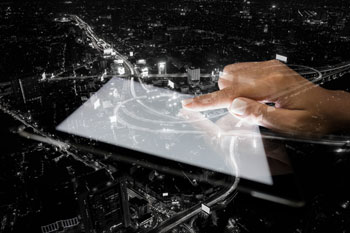 No matter how hard we try, we can't fight the trend of data being at the heart of everything we do – whether that's in our personal or business lives.
Data is collected about every aspect of our lives and what we do, from where we are via our mobile phones, what we do via wearable devices and our interactions with companies and organisations via CRM systems.
As a local authority, this is great. Understanding how people are interacting with staff, where they're doing it, and what they're asking means that you can better serve and protect citizens, as well as cutting costs and driving efficiencies.
But it's not as straightforward as simply bringing all of the data together. It's how to collect the data in the first place and make sure it's secure, then how you analyse it so that it can be used to deliver better outcomes and more cost-effective services.
Every authority we talk to is looking at this, but some have stolen a march, especially around data analytics and how the data is used.
If you take Milton Keynes for example – it's the fastest growing city in the UK, and, as a result, facing some real challenges, particularly around congestion.
Based on a grid road system, experts have predicted that it would literally be 'grid locked' by 2030 if it keeps growing at the current rate.
As a result, it's developed its MK: Smart initiative, which has brought together a vast array of data from a range of Internet of Things (IoT) enabled sources, including bins, streetlamps, car parks.
This data includes details of refuse levels in individual bins, air quality (from streetlamp sensors), availability of parking spaces and quality of the road surfaces around the city (from specially designed cycle lights).
Using data analytics, this allows the local authority to do things like rerouting its refuse collections so that teams aren't going to bins that are empty and change traffic flows should air quality drop below a certain level due to congestion.
This is helped by an ecosystem of startups and small businesses (25 at last count) that have built business models based on the MK: Smart data, all of which are developing solutions to specific challenges within the city.
There are lots of other local authorities using data innovatively, and developing new ways of working as a result, but we have a long way to go, as I discussed at a recent SOLACE roundtable with 12 chief executives. The promising thing for me, however, is that there's an understanding of the power of using data effectively, and an excitement around what it can deliver in terms of improved services, but also real innovation.
Bob Quin is Senior Marketing Manager at BT Business and Public Sector.