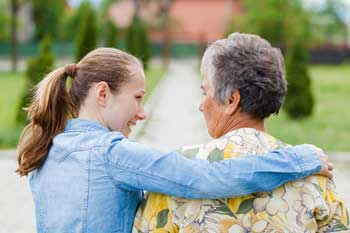 Over a quarter of 'sandwich carers' report symptoms of mental ill-health and are struggling financially, according to the latest statistics.
New figures from the Office for National Statistics (ONS) reveal the pressures faced by the 1.3 million people who care for both sick, disabled or older relatives and dependent children ('sandwich carers').
Almost 27% of these carers showed symptoms of mental ill-health, such as anxiety and depression, over the 2016 to 2017 period.
The ONS found that mental health issues became more prevalent the more hours the carer worked.
More than 33% of sandwich carers providing at least 20 hours of adult care per week report symptoms of mental ill-health, compared with 23% of those providing fewer than five hours each week.
The data also shows that many of these carers do not have time to work. Around six out of 10 sandwich carers spending at least 20 hours caring for an adult are out of work.
One in three sandwich carers say they are 'just about getting by' financially, while one in 10 are 'finding it difficult' or 'very difficult' to cope. Only 17% say they are 'living comfortably', compared with 32% of the general population.