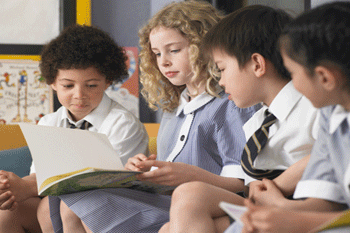 Councils must play their part in identifying illegal schools which may be promoting radicalism and extremism, the chief inspector has demanded.
In a letter to education secretary Nicky Morgan, the head of Ofsted Sir Michael Wilshaw says he is 'extremely concerned about the number of children and young people attending these schools who may be at significant risk of harm and indoctrination.'
He says there is a clear link between a steep rise in the number of children being home educated and the growth in unregistered schools in recent years.
Many of those operating such schools are unscrupulously using the freedoms that parents have to home educate their children as a cover for their activities, he warns, and are exploiting weaknesses in the current legislation to 'operate on the cusp of the law.'
He says local authorities have overall responsibility for the safety of all children in their area and 'need to show vigilance and share their local intelligence with other agencies, including Ofsted, to ensure these establishments are identified and investigated as quickly as possible.'
The comments follow a five-month investigation which uncovered more than 100 suspected unregistered schools with about 350 children or young people on the premises.
Mr Wilshire says it reinforced his view that there are many more children 'hidden away from the view of the authorities in unregistered schools across the country' than previously thought.
Last month inspectors issued seven warning notices to suspected illegal schools operating in London, Birmingham, Luton, Wolverhampton and Staffordshire and have also interviewed several people under caution.
Inspectors were 'deeply alarmed' by a range of problems including serious fire hazards, unsafe and unhygienic premises and staff and volunteers who had not been checked or cleared to work with children.
In one case chemicals and chemistry equipment were found in an unlocked food cupboard in a room where children ate their lunch.
Mr Wilshaw says the illegal schools found so far are likely to represent only a small proportion of the total and inspectors are hearing about suspected new cases every week.
He writes: 'I therefore remain extremely concerned about the number of children and young people attending these schools who may be at significant risk of harm and indoctrination.'
In doing so, many are providing a sub-standard education, placing children at risk and 'undermining the government's efforts to ensure that all schools are promoting British values, including tolerance and respect for others.'