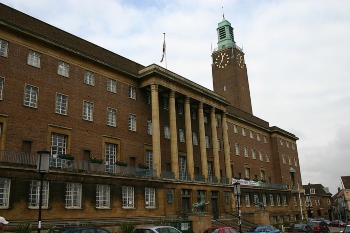 Staff working at a council-owned company in Norwich have announced five days of strike action over 'broken promises' on pay.
The dispute involves workers from the council's arms-length company Norwich City Services Ltd (NCSL). The company was set up in 2018 to bring services such as street cleaning and ground maintenance back in-house from Norse.
However, Unite and Unison said the council refused to bring workers' pay up to the level of directly employed staff.
The unions argues the workers transferring from Norse have some of the lowest pay rates and terms of employment.
Unison Norfolk branch secretary, Jonathan Dunning, said: 'Hopefully the city council will recognise the small amount of cash required to settle this dispute will be value for money. £83,000 to deliver the first step towards equality for low paid workers and to keep streets clean and safe over a bank holiday week seems a bargain to me.
'Our members have compromised on what it would take to settle this dispute, it is now down to the council.
A spokesperson for Norwich City Council said: 'We are disappointed by this decision to carry out strike action.
'It's troubling to read the unions' claims about management making no attempt to try and reach an agreement. This couldn't be further from the truth – both the council and the company have been in frequent talks with the unions, and in fact both parties are meeting with ACAS tomorrow to continue that dialogue and to try and reach an agreement.
'The company has made two offers of improved terms and conditions to the new workforce, and has also made commitments to offer further improvements in future years, tied to the success of the company.'