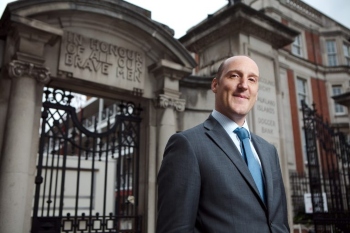 Most veterans do make a smooth transition from military to civilian life, but it is still far too easy for ex-service personnel, especially young veterans and early service leavers, to end up homeless and on the streets. Our analysis of government data shows that homeless veterans are being missed and are losing out on the enhanced support and housing available to them.
Recent Ministry of Housing, Communities and Local Government (MCHLG) homelessness data shows that over the past year just 1,780 homeless veterans were identified and housed by local authority housing services, just 0.72% of all accepted cases. We believe this figure should be far higher as our research shows that 3% of homeless people come from a service background, meaning up to 4,000 veterans are slipping through the net and failing to receive the support they're entitled to each year.
We have recently launched the No Homeless Veterans campaign to address this issue and reduce veterans' homelessness as close to zero as possible. It calls on local authorities, homelessness charities and advice agencies to 'Think Veteran' in order to identify former servicemen and women and signpost them to the best possible support.
As part of the campaign we have outlined crucial steps local authorities should be following in order to ensure there are no homeless veterans. We want local authorities to ask every person who applies for housing whether they are a veteran and know what to do when they identify one. This includes routinely asking everyone who applies for housing whether they have served in the military; having a robust system in place to record veterans' data; giving frontline staff the knowledge where to refer veterans when identified and ensuring they are up to date with the guidance and legislation relating to veterans in our local authority Toolkit developed in partnership with the Royal British Legion.
Our aim is that every single local authority should identify and refer veterans to appropriate services so they can find somewhere appropriate to live as soon as possible. This includes signposting them to the Veteran's Gateway, the specialist telephone and web-based advice service for veterans in the UK, including specialist housing advice.
Over the coming months we will be travelling up and down the country talking to those working on the homelessness front line, to ensure ex-service personnel are signposted to the support they need. The fact that, despite promises made in the Armed Forces Covenant, there are still homeless veterans presenting themselves to local authorities for housing but not receiving the help that is available to them is unacceptable.
We are fortunate in this country that there is a wide range of independent and government-led organisations that provide specialist support to service leavers. But it is only by effectively identifying veterans and signposting them to these services, that we will put an end to this tragic situation. If we get this right, then we really do have a chance to end homelessness amongst our veterans.
Ed Tytherleigh is co-chair of the Cobseo (Confederation of Service Charities) Housing Cluster