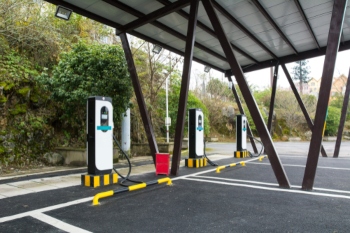 New homes and buildings such as supermarkets and workplaces, as well as those undergoing major renovation, will be required to install electric vehicle charge points from next year, the Government has announced.
The Government estimates that these new regulations will result in up to 145,000 extra charge points being installed across England each year in preparation for when the sale of new petrol and diesel cars will end in the UK in 2030.
'This is a pivotal moment – we cannot go on as we are. We have to adapt our economy to the green industrial revolution,' Prime Minister Boris Johnson told the Confederation of British Industry (CBI) annual conference today.
'We have to use our massive investment in science and technology and we have to raise our productivity and then we have to get out your way.
'We must regulate less or better and take advantage of new freedoms.
'We will require new homes and buildings to have EV charging points – with another 145,000 charging points to be installed thanks to these regulations.'
As well as new homes and non-residential buildings, places undergoing largescale renovations which leave them with over 10 parking spaces will be required to install electric vehicle charge points. RAC director of EVs Sarah Winward-Kotecha welcomed the PM's announcement.
'Future-proofing new build houses by ensuring they include electric car charge points wherever feasible is a welcome move by the Government, and one that can give future homeowners the confidence they'll be able to enjoy the benefits of a fully-charged car before they leave the house,' she said.
'Additional commitments to workplace charging will also benefit those who perhaps don't have home charging facilities but park their vehicle for several hours a day at work.'
However, Ms Winward-Kotecha cautioned that the move would have a limited impact.
'As positive as today's announcement clearly is, it's important to remember that a lot of new housing stock – especially in cities – doesn't even come with any car parking at all, let alone provision for electric charge points,' she said.
'It's for this reason that the RAC continues to call for the installation of rapid charging hubs to also be a priority. By supplementing points already installed in places like forecourts and supermarkets with rapid chargers, drivers without off-road parking will have a realistic opportunity to go electric. In addition, it gives those needing to recharge on longer journeys greater flexibility to do so.
'It's also important that all charge points – particularly at motorway services – are always working. Unfortunately, we're increasingly being called out to use our EV Boost technology by drivers who have reached public charge points only to discover they are out-of-order.'
Research by the County Councils Network (CCN) recently revealed there were more publicly available charging points in London than in England's counties combined.