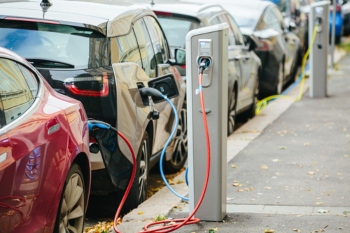 There are more publicly available charging points in London than in England's counties combined, new analysis has shown.
The County Councils Network (CCN) said the findings reveal a 'chasm' between cities and rural areas in the availability of electric vehicle charging points.
The analysis shows that London has 7,865 charging points, providing one for every mile. However, the 36 county areas represented by CCN have 7,781 public charging points, meaning the average distance between chargers is 16 miles.
CCN said just 35% of electric vehicles are registered in county areas, despite them being home to half of the country's population.
Cllr Sam Corcoran, climate change spokesperson for the CCN, said: 'Having a car is a necessity rather than a luxury in many county areas owing to a lack of public transport options, but we cannot incentivise people to switch to electric vehicles if the infrastructure is not readily available to support them. There is already a chasm between county areas and England's biggest cities in charging points, and this must be addressed urgently to stop rural areas falling behind.
'County areas have seen emissions fall the slowest compared to the rest of England and switching to electric vehicles will help our climate change ambitions. County leaders are ready to support the government in hitting net zero, but we need a new focus and investment to address the lack of electric vehicle infrastructure in our areas presently.'