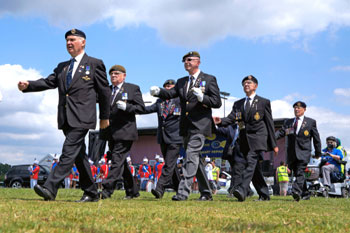 Local authority leaders have welcomed the creation of a new position within the cabinet dedicated to veterans' affairs, but warned it should be 'given teeth'.
The prime minister announced yesterday that Oliver Dowden had been appointed as the minister tasked with representing veterans in cabinet while visiting a military base in Scotland.
Mr Dowden will work closely with Johnny Mercer who has been appointed minister for defence people and veterans, which is now a joint Ministry of Defence and Cabinet Office position.
The Office for Veterans' Affairs will work with departments to coordinate and drive Government policy on veterans' welfare, spanning mental and physical health, education and employment.
'It is absolutely right that the Government should do all it can to support our armed forces from the day they enlist and for the rest of their lives,' said Mr Johnson.
'Veterans have given so much to the UK. They have so much to offer our workplaces and wider society and it would be a dereliction of duty not to harness that potential.
'By taking responsibility for the full gamut of veterans' civilian lives – from ensuring they get the medical treatment they require, to further training and skills after they have transitioned from service to keep them in good jobs, to targeted interventions to prevent the scourge of veteran homelessness – Oliver Dowden, Johnny Mercer and our brand new Office for Veterans' Affairs will do just that.'
Minister for the Cabinet Office, Oliver Dowden, commented: 'Our veterans have made extraordinary sacrifices for this country and it's only right that we repay their commitment with the right support and care when they leave service. I'm honoured to take on this role as a champion for veterans across government and will be a voice for their interests at the cabinet table.'
Cllr Ian Hudspeth, chairman of the Local Government Association's Community and Wellbeing Board, described the announcement as 'a positive step'.
'Armed Forces serving personnel, veterans and their families are valued members of our communities which is why all councils, who are often the first port of call for veterans and their families, are committed to supporting them and have signed the voluntary Armed Forces Covenant,' he said.
'Councils work with partners to provide a range of services including housing, money advice, employment support and health and wellbeing services, that help to meet the needs of veterans and their families.'
Cllr Hudspeth added that the new Office needed to be 'given teeth, including additional funding for councils.'
'The scale of the funding challenge facing local government means it is becoming increasingly challenging to maintain the current level of support for the armed forces community,' he said.
'Our veterans deserve the best support, and councils look forward to working with the Government to ensure that they receive just that.'
Photo: Simon Annable / Shutterstock.com