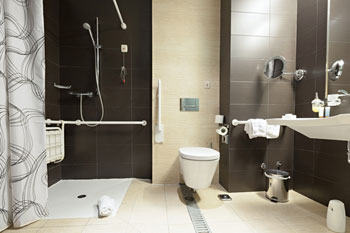 The time it takes to carry out home improvements for vulnerable people is set to be cut by a new online application.
Foundations, the national body for England's 200 home improvement agencies, has launched a portal it says will reduce the average 34 weeks from someone applying for a disabled facilities grant (DFG) to the work being carried out by at least four weeks to start with.
The DFG Tenders – Home Adaptation Portal will mean surveyors can award projects by price, speed of delivery and client satisfaction.
About 40,000 people a year receive the grants to pay for adaptations from ramps and stairlifts to wet floor rooms and extensions, and the figure is set to rise to 85,000 by the end of the decade.
Foundations' director Paul Smith, who developed the prototype for the new portal while working at Cannock Chase District Council, said: 'A speedy adaptation can be the difference between living independently at home in a safe environment and hospitalisation.
'Launching this portal on a national basis has long been a personal ambition. I know it will bring greater clarity to the process for clients, surveyors and local builders.'
For more on DFGs read our feature, 'How councils can best use Disabled Facilities Grants.'