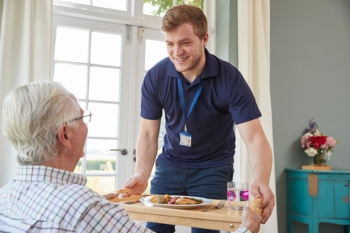 New taxes or extra spending are not enough to fix the 'dysfunctional' social care system, a think tank has said.
In a new report, the Adam Smith Institute argues that the social care system is unfit for purpose and only 'widespread and disruptive' change will solve the deeper problems.
It argues that providing free social care to more people through the NHS is a 'non-starter' and would be the largest nationalisation ever.
Eamonn Butler, the report's co-author, said: 'People aren't looking beyond how to get more money into social care. And more funding is seen as a magic bullet that would solve all the problems. But an arbitrary boost to care budgets will do little good.
'We can only solve the crisis in social care by looking at and radically reforming the whole system, not just one part of it.'
The report advocates a partnership with private pension and insurance investors to develop large numbers of new and upgraded facilities, and lease them to local authorities.
It also calls for more people to contribute to their own care needs by insuring themselves for six years' of residential care, with the Government picking up anything beyond.
Stephen Collier, chair of NHS Professionals and Eden Futures, said: 'This is an interesting and challenging read. Its proposals on funding of new care home capacity are both imaginative and deliverable, and if implemented would help the sector, and the broader economy at a difficult time.
'The proposals would help raise standards of accommodation for the care sector and the flow-through effect on service quality would be strongly positive.'