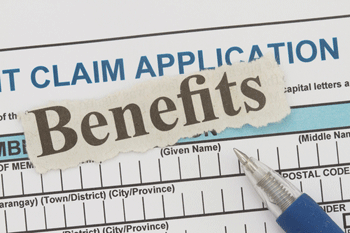 A minister has defended Universal Credit against damning criticism from auditors, describing it as 'an agile, adaptable system, fit for the 21st century'.
The Government's flagship welfare reform has been plagued with problems since its inception, accused of everything from being inefficient to putting victims of domestic abuse at 'further risk'.
The reform, which consolidates six benefit payments into one, most recently came under fire after a critical report into UC from the National Audit Office (NAO).
The NAO blasted the Department for Work and Pensions' (DWP) design and implementation of the welfare reform which, the auditors found, had cost £1.9bn to date and was responsible for over 100,000 late payments.
Despite the criticism, pensions secretary Esther McVey hailed UC as a 'great British innovation' in a statement to Parliament yesterday.
'This Government is delivering the biggest changes to the welfare state in a generation,' she said.
'We are building a benefits system fit for the 21st century, helping more people into work by providing tailored support – and more financial support for the most vulnerable.'
She told the House that the Government has supported nearly 3.4 million more people into work since 2010.
Addressing the NAO report, Ms. McVey insisted UC provided 'value for money for citizens'.
'The cost per claim has already reduced by 7% since March 2018, and is due to reduce to £173 by 2024 to 2025; this is around £50 less per claim than legacy cases currently cost us to process,' she said.
One of the most serious findings by the National Audit Office was the amount of late payments during pilots of the new welfare scheme.
Approximately a quarter of all new claims are paid late, the NAO report claimed, and between 270,000 and 378,000 claimants are expected to be paid late this year.
This has led to 'additional burdens' being placed on local authorities, the report said, with increased arrears, use of foodbanks and demand for advisory and advocacy services.
Ms. McVey told Parliament that the DWP had 'greatly improved our payment timeliness' and said many late payments were the result of claimants not producing verification of their identities.
'Around 80% of claimants are paid on time after their initial assessment period,' she said.
'Where new claims are not paid in full and on time, two thirds have been found to have some form of verification outstanding.
'Verification is a necessary part of any benefits system, and citizens expect these measures to be in place – we need to make sure we are paying the right people the right amount.'
'At a user level, we know that 83% of Universal Credit claimants are happy with the service they receive,' she added.
The pensions secretary also defended the Government's record on supporting disabled people in light of a recent court ruling that found UC 'at present give[s] rise to unlawful discrimination'.
'Just last week we announced changes to support the severely disabled when they transition onto Universal Credit; within our reforms, we want to ensure that the most vulnerable get the support they need,' she said. The local government sector has been particularly critical of the implementation of UC.
Responding to the NAO's report when it was published last week, Cllr Nick Forbes, senior vice chair of the Local Government Association (LGA), said: 'The ongoing challenges with the transition to UC are being borne out by some local evidence on issues including household debt, increased queries and requests for support and rent arrears.
'This is putting pressure on councils' revenues and benefits services and wider support to low income households at a time of significant funding reductions.'
The chief executive of Doncaster MBC and president of the Society of Local Authority Chief Executives, Jo Miller, criticised the DWP in an interview with The MJ for what she described as UC's 'bodged implementation'.
The NAO said the DWP had been 'unresponsive to issues they raise', an attitude Ms. Miller said local authorities had also come up against.
'The DWP needs to talk to people like us to see how it works on the ground', she told The MJ.
'They need to work with us, because we can help them implement policy more effectively, so actually we can help them deliver what they want to do, but instead they ignore us, there comes a problem and then we have to fix it'.