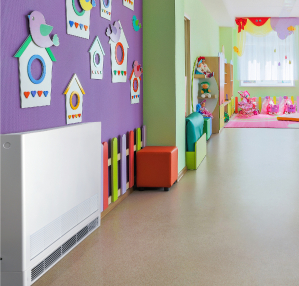 A primary school in Kent has opted for brand new low surface temperature (LST) radiators from Merriott as part of a complete overhaul of its antiquated, underperforming heating system – improving safety standards, boosting efficiency, cutting bills, and maximising comfort for pupils and staff in the process.
Morehall Primary School in Folkestone (part of the Turner Schools Academy Trust) was originally built in the 1930s and still using half-a-century old, inefficient cast iron radiators to heat its premises. Turner Schools secured funding to overhaul the school's entire heating infrastructure to ensure much needed warmth to an old building, and to ensure compliance with modern Health and Safety regulations.
Specialist M&E contactors JT Edwards specified and then installed 175 NHS-compliant Merriott Protecta LSTs over a six-month period. These were located primarily in the school's communal areas (such as halls), as well as in offices and classrooms.
Joe Dixon, Project Manager at JT Edwards, explains: "It was high-time the school updated its radiators, and Merriott LSTs were the perfect fit, as they're specifically designed for environments such as this one. Not only are they highly efficient with excellent heat outputs, they are also extremely safe, which is a must for a school. The protective casing means temperatures always stay within safe parameters (reducing the risk of injury). Plus, they are easy to wipe clean and maintain, which is a real bonus as ongoing hygiene is a key consideration for educational facilities.
"We have a great working relationship with Merriott, and we keep going back as we know we can always rely on quality products and competitive prices. Once again, we've not been disappointed!"
Independently tested in an EN442-accredited laboratory, the Merriott LSTs installed at Morehall Primary School are certified to meet BS EN442 standards. They comply with NHS Safe Surface Temperature guidelines of maximum 43°C when operating at a maximum flow temperature of 80°C (and a return of 60°C), or at a maximum flow temperature of 75°C (and a return of 65°C). In line with NHS Estates guidelines, they are also designed without sharp edges, and the top grilles ensure no foreign objects or small hands can reach the emitter. Additionally, all exposed paint surfaces are finished in an antimicrobial coating for optimum cleanliness.
Jamie Lewis, Merriott Sales Director – GB (specification division) continues: "This project was about upgrading the school's ageing heating system – and you can't do this by replacing the heat source alone. You need a whole system approach, and this is where our Merriott LSTs come in. They feature our unique third-generation technology, which means better heat transfer, lower water content, and the best heat outputs available on the market. Put simply, this translates into greater energy savings and lower running costs for the Trust.
"For this project, product availability and leads times were also a deciding factor, and I am delighted we were able to step in and fulfil all the criteria within the school's timeframe. We look forward to working on many more successful installs with JT Edwards in the near future."
For more information about the Merriott's LST range, or any of the products in the company's market-leading portfolio of commercial heating solutions, please visit www.merriottuk.com or call 01633 657 000.