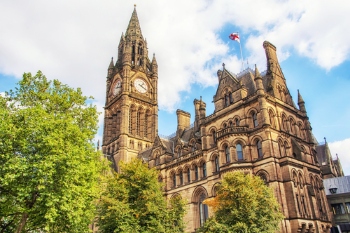 A memorial for those who lost their lives in the 2017 Manchester terror attack officially became accessible to the public today.
The centre piece of The Glade of Light memorial is a white marble 'halo' bearing the names of the 22 people who lost their lives in the attack of 22 May 2017. The families of those who lost loved ones have been able to place personalised memory capsules, containing mementos and messages, inside the halo.
Designed by BCA Landscape and Smiling Wolf, The Glade of Light has been under construction since March last year. The fences around the site have now been taken down so that people are able to visit.
Cllr Bev Craig, leader of Manchester City Council, said: 'We will never forget those whose lives were lost on 22 May 2017. They already had a permanent place in the hearts of Manchester people. Now they have a lasting memorial in the heart of our city.
'The Glade of Light is a beautiful tribute to them and somewhere which will also have profound meaning for everyone affected by the attack. We hope the memorial site will be a place of peace and comfort, standing as a reminder that love is stronger than hate.'