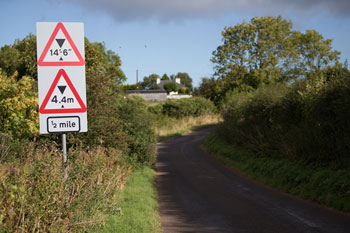 All lorry drivers who use sat navs should be 'compelled' to purchase specialist, commercial models, say council chiefs.
The Local Government Assocation (LGA) today reported villages and rural communities across the country have been blighted by 'a recent spate of lorry smashes' as heavy vehicles take short cuts through the countryside.
A minority of lorry drivers save money by buying car satellite navigation devices – sat nav – rather than specialist and more expensive models designed for lorries.
The latter include information such as bridge heights and narrow roads, and allow the driver to enter the lorry's dimensions - height, width, weight and load – so they are only guided along suitable roads.
The LGA said councils should be given the powers to 'compell' lorry drivers to use the specialist sat navs in order to stop them driving along unsuitable routes.
They also want councils to be able to fine lorry drivers who flout weight restrictions – the same powers local authorities in Wales and London have under the Traffic Management Act (2004).
'There has been a spate of recent accidents involving lorry drivers driving irresponsibly and causing chaos,' LGA transport spokesman Cllr Martin Tett said.
'The Government must start taking this issue more seriously and give councils the legislative tools to help their communities and other motorists.
'It is common sense that all lorry drivers should use sat navs designed for trucks, but this is only going to become a reality when it is a mandatory requirement. We are talking about a very small extra cost to drivers.'