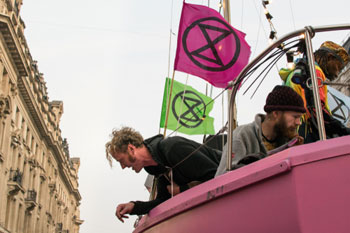 A bunch of young people stand up and strip semi-naked in the surroundings of a crowded council chamber. Large letters painted on their chests spell out their message: 'Action Now'.
The episode at Bristol City Council was one of several throughout the UK calling for urgent action to tackle climate change. In other places large boats were parked in busy city-centre streets, holding up traffic and causing disruption.
The group at the centre of the protests, Extinction Rebellion, have proved good natured and peaceful. There has been no violence and the police have taken a softly-softly approach. So a week-long protest last year blocking five bridges in London and other events involving holding up traffic have ended peacefully.
But the question arises of how councils will react to disruption in their streets in the name of a protest over climate change, no matter how urgent the matter at hand may seem.
Bristol was one of the first of an increasing number of councils to 'declare a climate emergency' last year. It has taken a positive line on the issue, enacting a range of measures to reduce carbon emissions.
Mayor Marvin Rees summed up the council's attitude: 'Young and old have shown their strength of feeling on the urgent action required,' he said, 'and we have a duty to pass on hope in an Earth with a better climate trajectory and more just global order than we inherited.'
In Glasgow, the city council has also declared a climate emergency and is talking to members of Extinction Rebellion.
A spokesperson told LocalGov: 'Members of Extinction Rebellion are part of our climate emergency working group. This gives them an opportunity to contribute to the debate on carbon reduction and influence what Glasgow does in the face of a global threat. We want them to engage with us constructively, rather than via disruption and graffiti.'
Cardiff City Council has taken a sympathetic approach to the protests with councillors visiting the protests. Their plea to the protestors to end the disruption to traffic was refused, however, and the council reissued a somewhat pacifying statement from the police saying legislation relating to obstruction of highways needed to be balanced with the human rights of those protesting.
'Everybody under the law has the right to protest peacefully and lawfully and the police must respect that right whilst also recognising the impact on the wider public,' it said.
Leeds City Council – which also faced a large boat blocking busy streets – says the disruption is 'a police matter' but is nevertheless taking the issue of climate change very seriously. Its Climate Commission brings together academics, church leaders, union leaders and community activists including members of Extinction Rebellion to consult on a wide range of measures to reduce carbon emissions. This includes, for example, the announcement of a £150,000 fund to help employers to support sustainable travel.
Westminster has probably faced the most disruption so far but seems remarkably patient, stressing that 'the right to lawful protest in public spaces is part of our democracy' and saying it is working with the Metropolitan Police to minimise the impact of protests on residents and businesses.
Reflecting the intentions of many councils across the country towards protests over climate change, it said: 'Climate change is a global issue affecting us all and as a council we are playing our part in reducing the impact we have on our environment.'
The good intentions are in no doubt and it seems remarkable that such heavy disruption to residents and businesses has passed off without incident and in good spirits. But it remains to be seen what kind of action may be forthcoming and whether the tolerant attitude exhibited by councils would survive many more such protests.
bBut the protestors appear to have understood that causing disruption can only go so far and it seems likely that while protests will continue they may be on a smaller and less disruptive scale.
Whether stripping in the council chamber or parking large boats on busy city centre streets will make any difference to the public discussion – when many of the council affected have already taken a strong line on countering climate change – is also debatable. The 'occupy' movement, involving large numbers of people camping in busy city-centre spaces to protest against capitalism, is now largely forgotten and it seems to have made little if any difference to the world financial system.
Councils have fully taken on board the seriousness of the climate change issue and are widely adopting measures to reduce carbon emissions and protect the environment. Some are actively working to engage activists in discussions of what can be done to further the climate change agenda.
For their part the protestors may have made their point and will perhaps realise that serious talking beats stripping off in the council chamber or parking a large boat in the city centre.