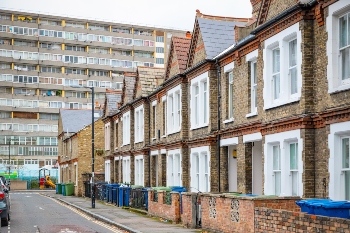 Much attention has been given to where housing, transport, jobs and communities sit in levelling up, but less has been said about how pivotal procurement is in enacting change and distributing funding fairly and consistently across the country, long term.
LHC Group's recently published report, How public sector procurement aids the levelling up agenda, looks through a public sector procurement and housing lens to identify low carbon new homes, major retrofit programmes and an increased use of regional and local supply chains as catalysts to effective levelling up across England.
Value-led public sector procurement must be front-and-centre to guarantee long-term programmes of work, increase market confidence and meet demand for low-carbon, cheap-to-heat homes. Importantly, it has the impetus to actively seek out regional and local suppliers, boosting local economic growth while attracting more diverse businesses.
Yet to truly level up the regions, while securing long-term pipelines of work is important, we need to work together as framework suppliers and public sector organisations to shape how suppliers are appointed. Social value, diversity, equality and inclusion must be prioritised, along with better access to regional and local SMEs.
There has been much rhetoric around the subject of levelling up since the Government's 2019 General Election manifesto, with 2021 bringing the newly titled Department for Levelling Up, Housing and Communities (DLUHC) and £1.7bn allocated by the Chancellor in his Autumn Statement for the Levelling Up Fund.
And, among the 12 missions in February's Levelling Up White Paper, local authorities were specifically earmarked as having a pivotal role in spreading opportunities and improving public services – especially in areas where they are lagging, and empowering local leaders and communities – notably in places lacking local agency. Yet through procurement the public sector also has the power to support private sector growth; a further point identified as key to boosting productivity and living standards in areas left behind.
But how can local authorities use procurement to advantage SMEs, diverse businesses, and marginalised communities? Collaboration is key, by:
Working with framework providers on a long-term basis to ensure assessment is fair and selects the right suppliers on a value basis to support true levelling up
Kicking off frameworks to finance work that creates housing and maintenance programmes where equity in deprived areas is improved and fuel poverty reduced
Fostering relationships with suppliers of all backgrounds, including regional and local SMEs, to improve opportunity across the board.
In the report, Tracy Harrison, Northern Housing Consortium (NHC) director discusses the role of good quality housing as an economic leveller, with social housing key for its provision to more disadvantaged communities.
She says: 'Housebuilding provides economic stimulus – retrofit even more so according to estimates. This retrofit market presents a levelling opportunity for 77,000 direct jobs in the North of England alone. Public sector procurement can help unravel the current chicken and egg challenge we have where home decarbonising is still emerging and customer demand is latent, but long-term certainty over funding is needed to bring about the confidence and ambition needed in the housing and construction sector.'
To achieve wider adoption of low carbon technologies and building methods such as MMC, a change in design, procurement and delivery is necessary.
Local authorities can play a lynchpin role by working with framework providers to standardise the supply chain, while joining with other public sector organisations to aggregate projects up and down the country, driving down delivery costs.
John Slaughter, Home Builders' Federation (HBF) director of external affairs, also earmarks new housing design and technologies as key to true levelling up through reducing fuel poverty. He adds: 'The research, development and piloting of new housing designs can be a shared endeavour across the whole housing sector and with local authorities so that everyone is on the same page in delivering solutions that work for all and send clear signals to the supply chain.'
Amidst all this complexity, procurement can adopt the role of connector, bringing local authorities, social housing providers and suppliers together to encourage a culture of collaboration. Collectively, we can identify areas to aggregate and approach projects, sharing risk and reducing cost.
Clearly, long-term funding is an essential component for enabling market transformation at scale, through helping to build demand, develop supply chains, promoting technological pathways, and building much needed skills in local economies. There are many other actions and choices open to social landlords and registered providers to ensure successful delivery and these depend on strong relationships with local authority partners.
Elaine Elkington is LHC Group interim chief executive