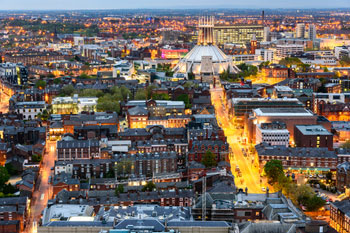 The mayor of Liverpool has submitted a proposal to the new prime minister for a £230m Green City Deal to tackle climate change and boost the economy.
The proposal – estimated to provide a £5bn economic boost over five years – aims to transform the city through new powers and funding.
Backed by businesses and trade union UNITE, the deal would help make the city carbon neutral, create 10,000 new jobs, support 35,000 people into work and train 4,000 apprentices.
The plan includes incentives for the private sector to build more energy-efficient homes, 6,000 homes built or retrofitted with energy saving features, the establishment of a Liverpool Mutual Bank and financial incentives for the most energy efficient homes.
It also proposes to make the £1bn Paddington Village development one of the country's greenest new development.
'This proposed City Deal centres on positioning Liverpool as the go-to place for clean technology investment, training and job creation through an inclusive and sustainable growth strategy,' said mayor of Liverpool, Joe Anderson.
'We know the Treasury has set aside fiscal headroom to deal with the impact of leaving the EU, and we need to be ready to take advantage of this with a clear plan for our economy.
'Through targeted and long term investments in the city's infrastructure and skills development, we can become a global destination for inward investment focussed on the new clean growth industry.