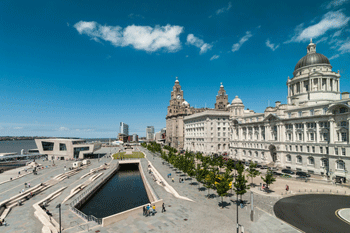 Liverpool today became the latest city region to join the Northern Powerhouse when it signed a devolution deal with the Government.
The north-western city region is the fifth major northern city to sign up to chancellor George Osborne's devolution revolution and it coincides with the signing of a deal between the Government and the West Midlands - the first region outside of the Northern Powerhouse to do so.
There will be a directly elected mayor with a range of new powers, such as control over local transport budgets and franchised bus services, and increased responsibility over employment support and skills provision.
The Liverpool City Region Combined Authority will have a number of responsibilities, including control of a £30m a year funding allocation over 30 years, to be invested in the Liverpool City Region Single Investment Fund.
Communities minister Greg Clark said: 'This One Nation government is determined to ensure power is devolved from Whitehall to local people, to put an end to the old north-south divide and rebalance our economy.'
He continued: 'This Liverpool City Region deal demonstrates how local leaders are embracing this opportunity to have a direct hand in shaping the future of their area, whether in skills, transport or housing.'
Cllr Phil Davies, chair of the Liverpool City Region Combined Authority, commented: 'The local authority Leaders and the Mayor of Liverpool have negotiated collectively with the Government on this devolution deal.'
'I believe that it is the best deal we can secure at this time for the benefit of the Liverpool City Region. Each respective council will be meeting on Thursday 19 November 2015 and I hope that - like me - my colleagues will be recommending that their authorities agree the deal.'
Responding to the Liverpool and West Midlands deals, Alexandra Jones, chief executive of the think tank Centre for Cities, cautioned:'[T]hese deals will only go ahead if the Government's Cities and Local Government Bill is successfully passed through Parliament in the next few months. It's now vital that MPs from all parties constructively engage with the Bill – if it isn't passed, the West Midlands and Merseyside, as well as other places across the country, will be miss out on the benefits and opportunities that devolution offers.'