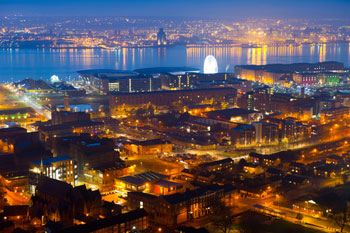 The city which built the first council houses in Europe 150 years ago is set to construct homes again after the Government lifted its ban on new building.
Liverpool City Council is developing plans for an initial phase of building to help tackle its need for 30,000 new homes by 2030.
The Government confirmed that the council would be allowed to build properties after confirming it will not need to repay the a housing debt written off when the city council transferred the last of its stock to housing associations in the late 2000s.
In 1869 Liverpool constructed the first council housing in Europe to tackle problems with sanitation and poor health.
St Martin's Cottages on Ashfield Street in Vauxhall were tenements and survived until 1977 when they were demolished.
In a letter to Mayor Joe Anderson, housing minister Kit Malthouse said he was 'pleased to see the ambition and enthusiasm of a city such as Liverpool, in engaging with the urgent process of delivering the new homes that this country needs'.
Mayor Anderson said: 'Liverpool pioneered public sector housing and my formative years were spent growing up in a council tenement, so I am extremely proud that, 150 years on from the city leading the way on social properties, we are now able to do so again.
'Buying is not for everyone, so it is important that we do what we can to help people in every situation to get the home they deserve, and we need to rebalance the city's housing market with a wider choice of the homes that people need.
'That is why I have pledged that we will build 10,000 houses, and I want a proportion of them to be council homes for people to rent.'