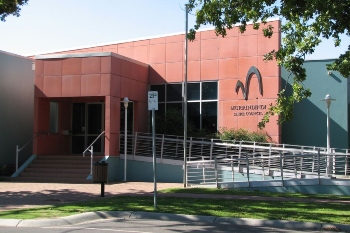 Murrindindi Shire is a small - by population but not by landmass - municipality in rural Australia. I didn't grow up there, but it's home. What made it home wasn't the scenic landscape or the quaint(ish) towns or the free (but timed) parking. I think it was the feeling of being accepted and valued and of my work contributing to something meaningful. That sense of belonging and purpose began first in the office then spread. Soon enough the woman at the supermarket checkout was pointing out when I'd picked up decaf coffee by accident and the bloke from the nursery was asking after a basil plant I'd long since killed every time I passed him on the street.
So it was with some hesitance, after almost two years as communications coordinator at Murrindindi Shire Council, that I packed up my bags in January for a sabbatical in the UK while I was still young enough to qualify for the Youth Mobility Visa.
Small councils, and the communities they serve, are special places to be a part of. You're known. Sure, that means who you took home from the pub on Friday night is known too, but if you get a flat tyre on your way to work, come down with gastro or have some personal upset, your colleagues care and take action to support you – even if that action is just a mug of tea placed on your desk. They care about you whether you want it or not. At first this is discomforting and intrusive and the urge to tell everyone to mind their own beeswax is strong, but before you know it, you're turning up on the doorstep of a colleague you don't actually know that well (with an unsolicited bottle of wine) for a 'welfare check' after you overheard them having a heated discussion on the phone earlier that day.
There is no anonymity and few secrets. But, perhaps for lack of other options, you're usually forgiven when you've made a mistake or behaved like an idiot. That's the thing about small councils in small towns – you have skin in the game whether you like it or not. And because you matter, everyone and everything ends up mattering to you.
When you tell most 'normal' people that you work in local government and love it, they have a tendency to look at you like you're bonkers. It's not just the decent pay, and it's certainly not the instant coffee in the tea room (though the occasional biscuit in a meeting is a legitimate perk), that attracts people to the sector. It's something else altogether. Maybe it's the sense of solidarity I feel for my colleagues and the community as they, like all of us, try to keep their heads above water through the COVID crisis or perhaps it's simply that I miss being a part of a team that gets out of bed each day with much more than a profit-motive on their agenda. Either way, since the moment I walked out the door of the council offices, I have wondered whether the costs would outweigh the benefits.
It's a rare organisation – public or private sector – that would support a mid-level employee to wander off for 12-months to get some 'international experience' with the promise of their job back when they get home. That's evidence of much more than a culture of caring, in many ways it's demonstrative of how progressive human resource management can be in smaller councils. In my experience, employees in smaller organisations get more opportunities for growth. They get to be involved in a broader range of projects and get to contribute to higher level conversations. This keeps staff engaged and invested, and fosters the feeling of being an important part of something that matters.
When the pandemic first hit, I wanted to go home because I was scared. I wanted to be where I knew how things worked and had people that love me – or at least quite liked me - instead of here in Edinburgh where I'm still bumbling around trying to get a bank account without proof of address (you really do have to draw a line in the sand about when you're too old to sharehouse). But wanting to come home was about more than my present discomfort. I felt like I should be there for my colleagues and the community at home. I should be chipping in. And, I felt a bit sorry for myself for missing out on developing council's response to COVID-19 – a once in a lifetime opportunity.
While I'm still working (from home) in the public sector, it's just not quite the same as being a part of the team that delivers council services to the community – to keep their lives running as smoothly and safely as possible – come hell or high water. Don't get me wrong, I'm enormously grateful to have a job and a roof over my head in these uncertain times – I'm just having a middle-class white-girl moment.
Watching Victorians suffer, alongside the rest of the world, from 15,000 kilometres away, gives me an acute feeling of having abandoned something vulnerable in its time of need – like the time I wouldn't walk home with my little sister from school. Obviously, the residents of Murrindindi Shire, and the council team, are fine without me. This sentiment is, as it should be, unrequited - I'm an entirely replaceable comms person. But you know what they say: you can take the girl out of local government, but you can't take local government out of the girl.
Amy McGregor-Daintonis a council communications officer on sabbatical from Australia