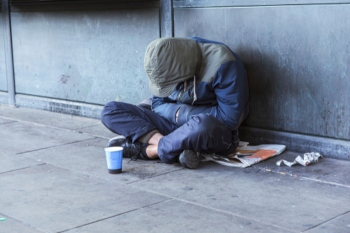 The Government has announced it will be repealing the 1824 Vagrancy Act that criminalises rough sleeping and begging in England and Wales.
Campaigners, MPs and Peers have long been calling for the 'archaic' legislation to be scrapped, warning it is 'inhumane' and unfit for purpose.
The Government has now tabled an amendment to the Police, Crime, Sentencing and Courts Bill on Monday.
Matt Downie, chief executive of Crisis, said: 'This offensive law does nothing to tackle rough sleeping, only entrenching it further in our society by driving people further from support. We know there are better, more effective ways to help people overcome their homelessness.
'We thank the UK government for using the policing bill to finally consign this appalling act to history, where it belongs. We look forward to working with them to finish the job without delay and ensure the criminalisation of destitution is over.'
Robert Jenrick, the former housing minister, added: 'The Vagrancy Act is an archaic piece of legislation which creates a wholly unnecessary obstacle that homeless people must overcome in order to rebuild their lives. I welcome the action that is now being taken to put repeal into law and I urge the government to continue to work with charities, including Crisis, on the detail of its implementation.'