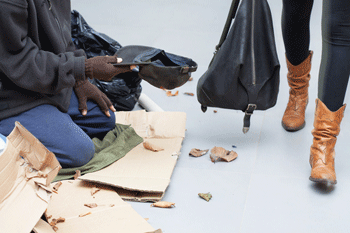 A new report has argued the 1824 Vagrancy Act, which makes rough sleeping and begging illegal in England and Wales, is 'inhumane' and should be scrapped.
The report, published by Crisis and backed by politicians and the police, warns the Act is unfit for purpose and is needlessly criminalising vulnerable people.
Figures obtained under a freedom of information request show there were 1,320 prosecutions under the Act in 2018, an increase of 6% on the previous year. However rough sleeping in England has increased by 70% between 2014 and 2018, suggesting the Act is not the most effective tool for dealing with rough sleeping.
'The continued practice of criminalising homeless people under the Vagrancy Act is a disgrace. There are real solutions to resolving people's homelessness – arrest and prosecution are not among them,' said Jon Sparkes, chief executive of Crisis.
He added: 'The Government has pledged to review the Vagrancy Act as part of its rough sleeping strategy, but it must go further. The Act may have been fit for purpose 200 years ago, but it now represents everything that's wrong with how homeless and vulnerable people are treated. It must be scrapped.'
The report found the anti-social behaviour act of 2014 was a more 'appropriate' of addressing issues such as aggressive begging.