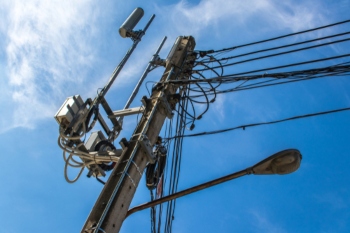 More mobile network equipment will be installed on street lights, bus shelters and traffic light in 44 English and Scottish council areas under a new pilot scheme to speed up 4G and 5G deployment.
The eight pilots will explore how digital software can help simplify how local authorities share information with telecoms operators to identify suitable structures to host equipment.
The projects will receive a share from the £4m Digital Connectivity Infrastructure Accelerator fund to pilot the latest innovations in digital asset management platforms.
Digital infrastructure minister Julia Lopez said: 'Currently, mobile companies are finding it difficult to get the data they need to check that a lamppost, bus shelter or public building is suitable for hosting their kit.
'These eight pilots will help solve this by modernising the way local authorities and operators work together in a way that ultimately delivers faster, more reliable mobile coverage for millions of people.'
The pilot schemes have been welcomed by the Local Government Association, which is also calling for a local digital champion to be set up in every local area to help facilitate the delivery of mobile coverage across the country.