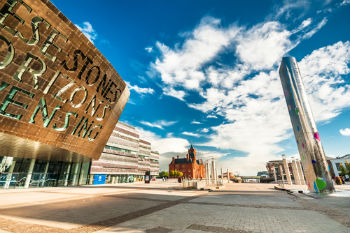 A £1.2bn City Deal - expected to deliver 25,000 new jobs and unlock £4bn of private sector investment - has been agreed for the Cardiff Capital Region (CCR).
The City Deal has been signed by the ten local authorities in the CCR and the UK and Welsh Governments today. It will enable the local authorities to pool resource and join up decision making, as well boosting the economic growth of the region.
As part of the agreement, the ten local authorities have been given greater financial freedoms and flexibilities including the devolution of business rate income, the power to levy an infrastructure supplement, and the right to pool funding at a regional level.
Chancellor George Osborne said: 'I want to create a devolution revolution around the UK and empower local leaders in Wales, so it's fantastic to announce a historic City Deal in the Cardiff City Region worth over £1.2bn.
'This landmark deal is expected to create up to 25,000 jobs and leverage £4bn of private sector investment by handing real power to local decision makers that are best placed to ensure the welsh economy is fit for the future.'
The deal will also see a 20-year infrastructure Investment Fund, a non-statutory Regional Transport Authority, and a Skills and Employment Board being set up.
First minister Carwyn Jones added: 'Central to the success of a City Deal is the close collaboration and partnership between all ten local authorities. It is a great example of what can be achieved by coming together for the greater good of our capital region.'