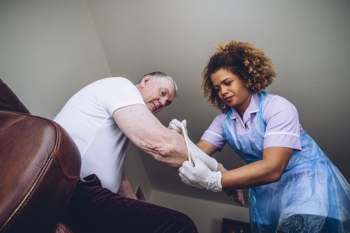 Soaring adult and children's care costs mean councils could 'soon fail to support everyone they need to,' town halls have warned.
The Local Government Association (LGA) today published fresh analysis of the impact of rising social care costs and demand, which shows care-providing councils now spend more than 60% of their budgets on these key services.
Senior LGA officials said the research highlighted the pressing need for reforms to currently 'inadequate' social care funding regimes.
No funding was made available in the recent Spending Review to address immediate adult care pressures and Smith Square warned 'serious questions remain' about whether the £5.4bn expected from the health and care levy over the next three years will be enough to pay for recently-announced adult social care reforms.
The LGA's research was published at the launch of the virtual National Children and Adults Services Conference.
Smith Square has estimated that spiralling demand for children's social care means that costs will soar by £600m annually until 2024-25.
Many councils are already consistently over-spending on children's care services.
Chair of the LGA's community wellbeing board, Cllr David Fothergill, said: 'Councils … are now seriously concerned they may be unable to meet their full range of legal duties towards all those who need care and support.
'There is a very real risk that residents will feel they are paying twice with an increased social care precept on their council tax bills, on top of the new health and care levy, yet see their experience of social care services deteriorate due to dwindling resources.
'The Government's imminent White Paper on adult social care should set out precisely how money raised from the levy will address all of its reforms while also diverting more money to the frontline.'