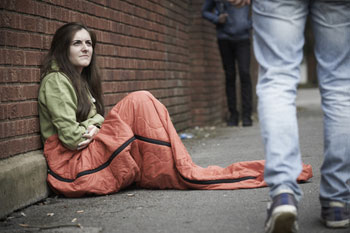 Local authorities have been invited to bid for a share of a multi-million-pound fund which is aimed at providing people sleeping rough with secure, long-term accommodation.
Housing secretary Robert Jenrick today announced that £212m will be invested in delivering 6,000 new homes by the end of this Parliament with the aim of 'ending rough sleeping once and for all.'
'Since the start of the pandemic, we made it a priority to protect rough sleepers through our ongoing "Everyone In" campaign, which has supported more than 37,000 people into long-term accommodation,' he said.
'To build on this progress we are making the biggest ever investment in longer-term accommodation for rough sleepers so they can have a secure, safe and comfortable home and rebuild their lives.
'Councils have played an outstanding role in protecting rough sleepers throughout the pandemic and today's funding is a further opportunity to work together to achieve our mission of ending rough sleeping once and for all.'
In a report from the Public Accounts Committee (PAC), MPs yesterday praised the Government's 'Everyone In' campaign, which helped provide shelter for those sleeping rough, potentially avoiding some 20,000 coronavirus transmissions and limiting deaths among the homeless to an estimated 16.
However, the PAC report warned that the emergency COVID-19 initiative had revealed the true extent of homelessness was far more than the Government's official estimates. It estimated that the number of people sleeping rough is nearly nine times the last official estimate of people sleeping rough of 4,266.
A Government spokesperson rejected the PAC report as 'unfounded criticisms'.
Local authority leaders welcomed the announcement of £212m of funding to help them tackle rough sleeping although they have urged the Government to ensure this is more than just a 'one-off emergency response'.
Cllr James Jamieson, Local Government Association (LGA) chairman, said: 'It is vital that we build on the success of councils, Government and partners in getting rough sleepers off the streets during the pandemic and make this the new normal rather than a one-off emergency response.
'This investment will help to transform the lives of people sleeping rough and ensure they get the crucial support they need and a roof above their head.
'Councils stand ready to play their part in the cross-government drive to end rough sleeping altogether and make sure no-one suffers the tragedy of becoming homeless.'