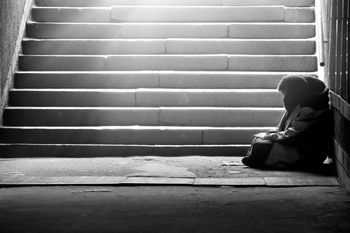 MPs have raised serious questions about the Government's homelessness strategy after a report revealed councils are underfunded and a COVID initiative has housed nine times the official estimate of people sleeping rough.
A new report from the Public Accounts Committee (PAC) noted that the Ministry of Housing, Communities and Local Government (MHCLG) made a 'considerable achievement' at the beginning of the pandemic with its 'Everyone In' initiative.
'Everyone In', which helped provide shelter for those sleeping rough, potentially avoided some 20,000 coronavirus transmissions and limited deaths among the homeless to an estimated 16, against around 37,430 people who had been helped into accommodation by January 2021.
However, that number is nearly nine times MHCLG'S last official estimate of people sleeping rough of 4,266 – and, according to the PAC report, the department still does not have a plan for achieving or maintaining the Government's 2019 election commitment to end rough sleeping by May 2024.
A Government spokesperson rejected what they described as 'unfounded criticisms'.
'"Everyone In" was a success with local authorities and voluntary organisations working to help people living on the street into hostels and hotel rooms in a matter of days,' commented chair of the PAC Meg Hillier MP.
'But the "Everyone In" initiative has exposed the scale of the task the Ministry of Housing faces to meet the Government's commitment to end rough sleeping in three years.'
She continued: 'Rough sleeping was a massive public health issue long before the pandemic, and much larger than Government has previously publicly acknowledged. MHCLG now has a huge opportunity to capitalise on this success in the pandemic response and begin to reverse its long record of failed and abandoned housing targets and policies.'
'People without recourse to public funds are still left exposed and risk losing support. Support for these people is urgent,' she added. The PAC report also questioned whether funding of local authorities is adequate to cope with the homelessness crisis.
Local authorities are generally not permitted to support non-UK nationals who legally have 'no recourse to public funds' (NRPF), including benefits and public housing, except where there is a risk to life.
With the outbreak of the pandemic, MHCLG was clear that because of the risk to public health, local authorities should provide accommodation for all people sleeping rough irrespective of immigration status.
However, over the last year the messaging provided to councils became more ambiguous, and the approach they have taken has increasingly diverged.
In particular, according to the report, local authorities in London and the West Midlands are facing practical and financial difficulties, with around 50% of those staying in hotels in London being recorded as having 'no recourse to public funds' at the beginning of winter 2020-21.
Responding to the report, Cllr David Renard, Local Government Association (LGA) housing spokesperson, said: 'As this report rightly recognises, councils responded rapidly and decisively in getting people sleeping rough off the streets during the "Everyone In" initiative.
'We now want to work with Government on a cross-departmental homelessness prevention strategy to make this the new normal, rather than a one-off emergency response, and end rough sleeping.
'The funding provided by Government to tackle rough sleeping has been vital. But if councils are to prevent homelessness from happening in the first place, short-term reactive pots of funding need to be replaced by long-term funding issued through multi-year settlements to give councils the certainty they need to plan local services.'
He added: 'The Committee is also right to highlight the issue of No Recourse to Public Funds, which we continue to urge the Government to lift so that councils can ensure that everyone who is vulnerable can access help if needed, regardless of immigration status.'
A Government spokesperson said: 'We reject the unfounded criticisms in this report - we have always been clear that the annual count represents the number of rough sleepers on a single night and this report misuses different data to provide an inaccurate picture. Funding for these government programmes is allocated to ensure it reaches everyone considered homeless over the course of a full year.
'However, we welcome the recognition of the significant achievements of the ongoing Everyone In programme which has protected thousands of people from COVID-19.
'We're providing over £700m this year and £750m next year to tackle homelessness and rough sleeping and are working with partners to learn any lessons from the pandemic and update our ambitious plans to end rough sleeping for good.'