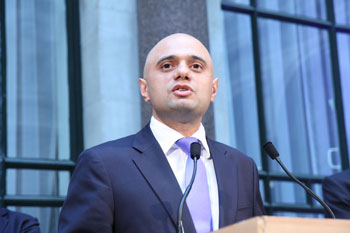 Sajid Javid yesterday gave the green light for Dorset to go ahead with its 'historic' plans to create two unitary councils.
The local government minister last November said he was 'minded to' support plans to abolish the area's nine local authorities and replace them with two unitary councils.
He has now confirmed that, subject to parliamentary approval, the plans will be implemented.
There are currently two small unitary councils — Bournemouth and Poole — in Dorset. These are surrounded by a two-tier structure of Dorset County Council and the district councils of Christchurch, East Dorset, North Dorset, Purbeck, West Dorset and Weymouth & Portland.
Under the new arrangement, there will be a single unitary council for Bournemouth, Poole and the area controlled by the Borough of Christchurch, and a single unitary council for the rest of the county area.
The new plans, laid out in the Future Dorset paper, are projected to save the area £108m in the first six years.
'I am satisfied that these new councils are likely to improve local government and service delivery in their areas, generating savings, increasing financial resilience, facilitating a more strategic and holistic approach to planning and housing challenges, and sustaining good local services,' said Mr Javid.
'I am also satisfied that across Dorset as a whole there is a good deal of local support for these new councils, and that the area of each council is a credible geography.'
In a joint statement, eight of the county's local authorities welcomed Mr Javid's statement describing it as a 'historic day for public services in Dorset'.
'This will be a challenge but we will work hard to ensure our communities receive the services they expect and deserve,' they said.
'Our strong track record of partnership working in Dorset, whether through shared chief executives and management teams or joint service delivery, demonstrates our ability to put in place creative and innovative ways of working, and shows we will always put the provision and preservation of essential frontline public services and the interests of our residents first.'
'This is about so much more than the reorganisation of council structures in Dorset,' they continued.
'The opportunity to change the way we provide services will help us save money, give greater accountability to council tax payers and service users, and protect public services for future generations.'
Christchurch council, which last January warned it could take legal action if the Government forced it to merge with Bournemouth and Poole, said they were 'disappointed' by yesterday's decision.
'This decision comes despite Christchurch Borough Council putting forward an alternative to the Future Dorset submission and 84% of Christchurch residents who voted in the local poll not supporting the proposal for Christchurch to become part of a unitary council with Bournemouth and Poole councils,' said the council's deputy leader Trish Jamieson.
'We will be calling an Extraordinary Full Council meeting to allow us to consider our position moving forward and the opinion of the legal professional as to whether there is any arguable error in law.'