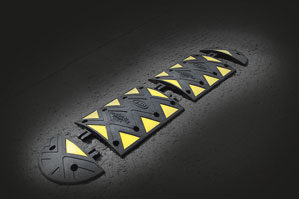 With over 50 years of experience in manufacturing Traffic Management products, JSP have launched the new Ridgeback™ Speed Ramp – a highly durable new speed ramp which will keep visitors and employees safe by reducing vehicle speed on site improving safety conditions in residential and commercial areas.
This innovative new ramp has been designed with all the vital features facilities management companies require and incorporates both colours per section with a universal end cap so ordering is simple and there are less parts to stock.
The thermoplastic retro-reflective elements of the yellow reflective area of the ramp have been angled to optimise interaction with vehicle headlamps ensuring better visibility using the latest glass bead technology. The area of reflectivity has been increased compared to traditional styles of speed ramps.
The Ridgeback™ Speed Ramp is very easy to assemble using a clever interlocking system for easy connectivity and to maintain stability. The channel on the underside of the endcap allows safe passage of wires or hoses, protecting them from heavy duty vehicles.
Manufactured from a high performance polymer technology Ridgeback™ Speed Ramp conforms to requirements of BS EN 1436:2018 and durability requirements of BS EN1824:201. It is available in heights of 5cm and 7.5cm aiming to reduce vehicle speed to a maximum of 10mph and 5mph respectively.
More information is available from www.jsp.co.uk, by emailing uksales@jsp.co.uk or calling +44 (0)1993 826050.