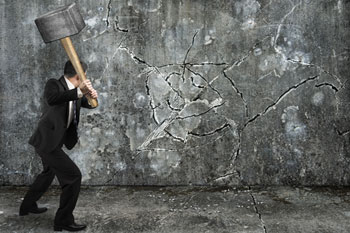 I recently attended a roundtable event held with the Municipal Journal, which explored how the government's fiscal plans would impact on local services. There was much well-informed talk of the end of efficiency-based savings and the need for a more 'outcomes-based approach', but the two things that struck me most were the huge cultural barriers to change and the skills gaps faced by all the organisations represented in the room.
This was borne out by our recent research. More than 70% of those questioned expect culture to be a major barrier to transformational change, while a similar amount (64%), feel lack of skills will be a problem.
Most around the table agreed that local public services in their current guise have reached the limits when it comes to cuts, and that a new approach needs to be taken that places citizens and their needs at the heart of service transformation, rather than legacy structures or attitudes.
Similarly, many around the table agreed that a small number of service users can often account for very significant levels of of expenditure, yet local authorities and partners often haven't identified why, or in some cases, even who they are.
So perhaps before any meaningful transformation can happen, there needs to be a full and frank evaluation of what can actually be done to improve outcomes, and in turn, save money, even if that means spending some money in the short-term. I would argue that, in order for this approach to stand a chance, information must be at the heart of it.
The way technology unlocks and makes sense of information will really drive transformation. Only when those responsible for delivering services can see where the roadblocks lie and understand what is at the heart of those issues by taking an end-to-end view, rather than service-by-service, will they understand what to change. 'Big data' and 'the Cloud' are overused terms but underused options, and the adoption of common technologies and standards will help integrate, join and transform place-based services.
Round the table many understood the need to avoid working in silos, for example, the need to better integrate health and social care, but there was a sense that this subject, along with many other assumptions and ingrained ways of working, hadn't been challenged using a thorough evidence-based approach.
Similarly, assumptions about the root causes of social isolation and other modern ills are not always subjected to enough scrutiny. A good example is the enduring myth that the older generation does not use technology, despite mounting evidence to the contrary. With a desire to stay independent longer and a need to keep older generations out of expensive care settings, now is the time to focus on the use of assistive technologies.
By taking an intelligence-based approach where nothing is perceived as "off limits", a true picture of service needs and delivery is more likely to emerge. This in turn will highlight funding gaps, skills gaps, and help drive cultural change.
Tom Baker, Development Director - Future Cities, BT Global Services