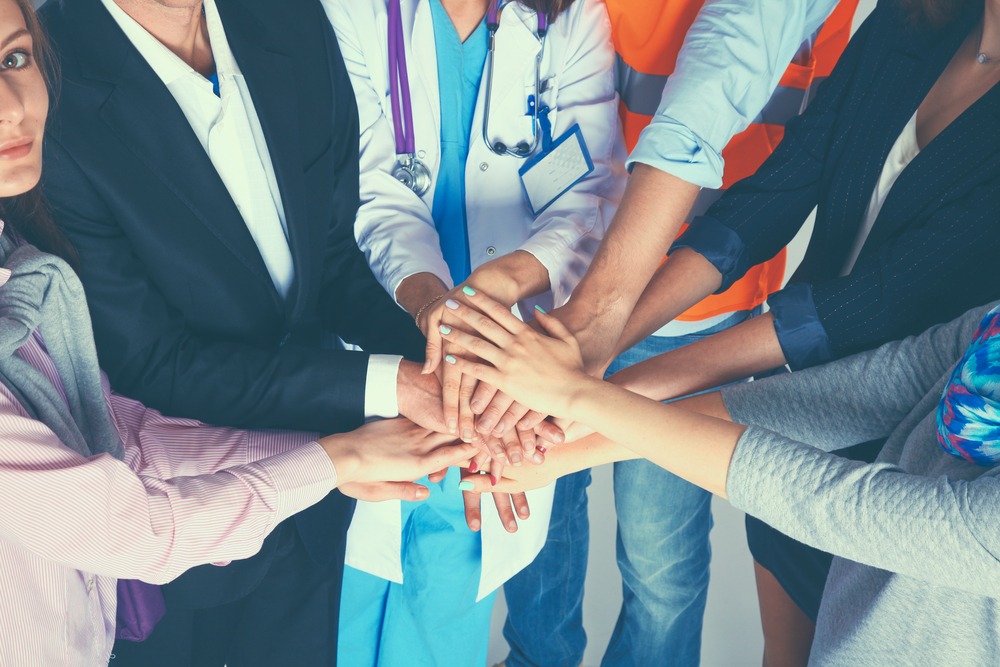 At a relaxed St Helens Central Library, an artist from Creative Alternatives explains the concept of "mandalas" to a group of new participants.
A mandala is a geometric diagram that represents a symbolic picture of the universe. Over the next few weeks, each participant will design their own mandala, while also practising mindfulness and developing other creative skills.
Several of the attendees were referred to Creative Alternatives on a social prescription. These are a means of improving wellbeing through community engagement and they're proving increasingly successful. But what does this mean for healthcare more broadly? Are we reducing our reliance on the NHS and turning to the voluntary sector for help?
Social prescriptions can be issued by either a GP, a Social Prescribing Practitioner or a voluntary organisation. They cover a diverse set of issues, from combatting social isolation through to helping those with long-term conditions.
For example, on Stepney City Farm in East London, a team of volunteers at Furry Tales provide animal-assisted activities to combat social isolation. In practice, this means taking guinea pigs, rabbits and chickens into care homes, while also running activities on the farm itself. With 2 million people over 75 living alone in London, it's making a serious contribution.
While in Cumbria, Growing Well helps people to recover from mental health conditions by giving them the opportunity to work in a supportive environment. This could entail growing organic vegetables, working in a yurt or undertaking a variety of office-based tasks.
Aside from local initiatives, there are also national schemes such as Walking For Health and Reading on Prescription. The former, which is run by Ramblers and Macmillan, reaches over 20'000 people each week. It's aimed at anyone seeking to improve their wellbeing, with a focus on those with long-term conditions. The latter is delivered through public libraries and promotes the health benefits of self-help reading. Annie Robinson, programme assistant at Reading & Health highlighted the popularity of the service.
"Our 2014/15 evaluation found that the scheme was available in 97% of library authorities and had reached nearly half a million users since its launch."
Referrals are increasing
Data on the number of social prescriptions seems to be a little sporadic, but indications are that they're becoming more popular. Sarah Morland, Partnership Manager at Reading Voluntary Action has noticed a significant upturn.
"We are seeing an increase in referrals. The service is coming to the end of year two and the referrals have almost doubled in the second year."
Red Zebra Chief Executive, Charlie Fox has also spotted an increase and added that they're originating from a broader set of sources. "Referrals are coming from GPs, self-referrals, schools and children's centres."
Results are positive
An attendee at Creative Alternatives explained "I feel much more confident at using healthier coping methods for stress and anxiety", with another saying "I now have cracked this cube I have spent years living in. I am ready to move forward". A recent survey noted a 50% reduction in GP visits as a result.
Quantitative evidence is harder to track down, although in Rotherham, a study highlighted that over 80% of people referred to a social prescribing pilot scheme reduced their NHS use. Data from the Bradford Community Health Advice Team also discovered the same.
GPs need access to better resources
However, not all GPs are onboard with social prescriptions. Creatives Alternatives' Director Jessica Bockler feels that this is partly due to the quality of the information available to them. "There is little consistency in terms of the information provided to them and where to refer to. Usually it remains a struggle locally to provide an up-to-date directory on third sector services."
But should the responsibility of raising awareness rest solely on the shoulders of GPs? Given that the NHS is handling over one million patients every 36 hours, maybe we should all being doing more to support the vulnerable people around us?
Charlie Fox recognises that GP appointments aren't always the answer "If someone is presenting at the GP who is depressed and struggling, there may be other ways of dealing with that." She added that "It's right for people to take control of their own lives. For the health and social care system to survive some of the challenges and barriers it's facing at the moment, the population needs to behave in a different way."
Dr Johnny Marshall OBE believes the long-term solution is Primary Care Homes, which are being championed by NHS England. The Primary Care Home model bases lifetime care around the needs of each individual, rather than specific conditions, and it promotes a broader community approach to health. It's currently being piloted in 15 test sites across the UK.
Community-based technology can support a cultural shift
Technology needs to underpin this rapidly shifting mindset. Any local service, community nurse or GP should be able to refer into a network based on a simple needs assessment. Health professionals could then easily check the status of each individual and prioritise accordingly. With a central hub in place, data collection could also be automated to enable councils to assess the effectiveness of each social prescription.
Implementing the right technology is the first step towards creating a healthier culture of community support. In the meantime, do find out more about the voluntary services on your own doorstep, as it's likely that someone you know could benefit from them.
Gary Pettengell is CEO and founder of Empowering Communities.