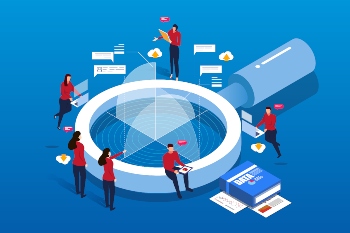 Local authorities need data. Whether it is to help them allocate precious resources, or to tackle the biggest issues faced by the community during the COVID-19 pandemic; data plays an invaluable role in helping local government better serve their communities.
However, many are yet to realise the full benefits of their investments in data management and analytics. New research from Qlik, conducted in partnership with IDC, found just 14% of government organisations reported that their data investments resulted in an increase in employee productivity. By comparison, the retail and manufacturing sectors saw a 21% and 20% increase. Similarly, fewer government organisations reported improved operational efficiency (12%) than in healthcare (19%) and transportation (18%) industries.
The potential for data to inform decision-making and improve outcomes in local government is unquestionable. But there are still barriers that must be overcome for these organisations to achieve the same return on investment from their data software as seen in other industries. To this end, the government recently launched its National Data Strategy with the promised of better understanding the needs and challenges faced by local authorities in utilising data to its fullest potential.
But what can local governments do today to drive better outcomes from their data?
Ensure all data is at the heart of all decisions
Much of the data available to local government remains unused or underutilised. In fact, all respondents in the Qlik and IDC study from government organisations reported finding it challenging to identify potentially valuable data sources. When data sources go unidentified, this creates blind spots that impacts local authorities' ability to make more informed decisions around which services have the greatest need for development or funding.
Improving decision making means investing in the whole data pipeline, recognising that its output is the sum of all of its parts. And if there's not enough data going in at the start of the pipeline, the outcomes you can achieve from it are limited. To achieve greater intelligence and improved outcomes, local governments should consider how data discovery and cataloguing can help them improve the availability and access to more data to inform decision-making.
Make decisions on up-to-date and relevant data
Traditional methods of integrating data into analytics platforms often leave local governments working with data that is weeks or even months out of date. Batch uploads using Extract, Load and Transform (ELT) can often take between six to nine months, resulting in many decisions being taken off analysis of outdated information. Particularly in recent months where many local authorities had to adapt their services in light of the pandemic, stretching resources even further, such data delays risked many decisions being made in the dark.
Local government leaders looking for more timely insights should consider new approaches to data integration, such as Change Data Capture (CDC), which can continuously identify changes and stream live data to numerous data stores. Automating tasks like this can help organisations bring together data from different data sources in near-real time to ensure that the analytical insights that inform decision-making are relevant and accurate.
Equip teams with the skills to use data
Local governments are not immune to the global shortage of data literacy skills. In fact, Qlik research found that fewer than one-in-five (19%) public sector employees felt fully prepared to use data when entering their current role. This can lead to confusion and missed opportunities when working with data.
In councils that have already implemented a data driven culture, the results speak for themselves.
Camden Council, for example, has created an environment where data is enabling them to identify emerging patterns and problems. The whole organisation has upskilled – meaning staff at all levels of seniority now use business dashboards to help them analyse data, which is helping them to improve a wide range of services to the borough. Even for bootstrapped local authorities, with a number of free data literacy e-learning courses available online, these skills can be democratised to give all employees the confidence and insight to make the right decisions every time.
Now is the time to maximise data investments
Local authorities are under immense pressure to continuously do more with less and must be effective in identifying where they need to put their finite resources. Data plays an important role in helping decide where to best allocate these resources and in identifying patterns for local government to act upon.
While many local governments will be eagerly anticipating the conclusions of the National Data Strategy consultation to provide further guidance around how to drive better outcomes with their data, these three key areas will be critical in helping them establish a solid foundation in the meantime to increase the ROI from their existing data investments.
Adam Mayer is senior manager at at Qlik