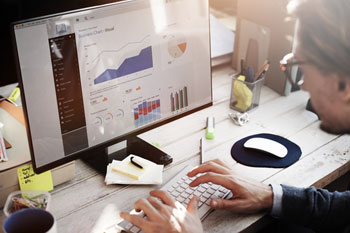 2016 has been a big year for big data and it's clear that as we approach 2017, big data analytics represents an important shift in the world of business.
Although many still see big data as a buzzword, when it's interpreted and used correctly it has the power to bring vast benefits to an organisation, from reduced costs, to meaningful insights that can bring data to life. Big data can also help businesses make better informed decisions, that look forward rather than retrospectively, known in the industry as Predictive Analytics.
Predictive Analytics has been around for years, but many organisations have not understood how to leverage the technology for a competitive edge. Every organisation, regardless of sector, can benefit from becoming more analytical across the board. From understanding customers, performing day-to-day operations and making decisions, analytics is a valuable asset for all businesses.
It is safe to say that analytics is shaping the future for much of the business world, but one sector that could greatly benefit from the use of analytics is local government. In the next few years we'll see data analytics and business intelligence becoming critical for councils as they battle with priorities, budget cuts and the need to work smarter.
Increasingly councils are going to need to provide evidence which shows the relationship between inputs, outputs and outcomes and impact. And with people costs typically making up 80% of a local councils' organisational costs, it is essential that they have the ability to forecast, model and be in control of their current and future expenditure.
It's hard to believe that even in today's society, budget setting within many local councils are carried out by multiple teams using excel spreadsheets. Not only is this process very labour intensive, it is also prone to inaccuracies and difficult to aggregate.
As well as providing a solution to this problem, analytics can help resolve some of the other challenges faced by local councils, presenting them with huge opportunity in the way that they approach many aspects of data, from the way it is generated, to the way it is stored and analysed.
To realise the true power of analytics local governments needs to invest in a solution which provides a single view of the cost and forecasted cost of an organisation's workforce and one that delivers the ability to look at data from the very top level of the organisation down to the lowest level.
Nick Felton is director of analytics at MHR Analytics