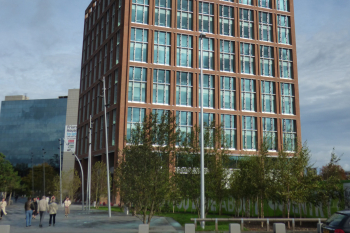 The government's housing agency is trialling shared office space with Coventry City Council as part of a move to work more closely with its regional partners.
If successful, Homes England says Coventry could become its new national centre.
The agency is already trialling space with Liverpool City Region Combined Authority so that its experts can work hand-in-hand with local specialists.
Sir Edward Lister, chairman of Homes England, said: 'Homes England is committed to a place-based approach, working with local experts to accelerate the delivery of homes across England.
'The co-location that we are now trialling in Coventry is a way of cementing that collaborative approach as teams work side by side.'
Cllr Jim O'Boyle, cabinet member for jobs and regeneration at Coventry City Council, said: 'The announcement that Homes England is establishing a presence in Coventry, at Friargate which is located right next to the fastest growing railway station outside London, offers a strong statement of confidence in the city's ongoing regeneration and transformation.
'We have already welcomed the Financial Ombudsman Service who are based at Friargate and now we are working closely with Homes England, sharing our local knowledge with its team.'
Photo: Elliott Brown/flickr