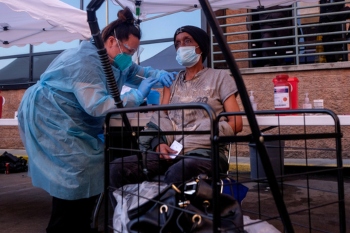 Local teams have been given permission to offer the COVID-19 vaccine to homeless people or those sleeping rough.
The latest advice from the Joint Committee on Vaccination and Immunisation (JCVI) is that homeless people will be offered the vaccine alongside priority group 6.
Minister for COVID vaccine deployment, Nadhim Zahawi, said: 'This is a very challenging period for people who are homeless. We know those experiencing rough sleeping or homelessness aren't always able to access healthcare routinely and therefore can often have a range of health issues which can leave them at an increased risk of this virus.
'Following the recommendation by the JCVI local teams will now be able to prioritise this group for vaccination alongside priority group 6 and make sure fewer people fall seriously ill or die from COVID-19.'
The news has been welcomed by the Local Government Association (LGA), who warned people living on the streets are among the most vulnerable in society.
Cllr Ian Hudspeth, chairman of the LGA's Community Wellbeing Board, said: 'Councils have been working with partners to reach out to people sleeping rough and those who are at risk of homelessness in their areas to encourage them to register with local GPs so that they can access wider healthcare provision, although this is not a requirement in order to be able to get vaccinated.'
Photo: Ringo Chiu / Shutterstock.com