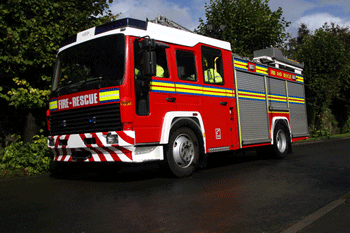 The home secretary's plans to bring fire and rescue services under the control of police and crime commissioners (PCC) are 'stupid and dangerous', the Fire Brigades Union (FBU) warns.
Responding to Theresa May's suggestion that passing over responsibility to commissioners would bring 'direct, democratic accountability' to the fire service, the FBU argues that the opposite would happen.
Matt Wrack, FBU general secretary, said:
'The home secretary talks of increasing accountability, but PCCs were elected on a historically low turnout of just 15%. Abolishing fire authorities, comprised of democratically elected councillors, would sweep away vital democratic safeguards.'
The FBU also argues that being closely associated with the police would undermine trust they have built up in their communities. It may make some people more reluctant to cooperate with fire prevention work.
Mr Wrack also warned of the potential financial impact of the home secretary's proposals.
'PCCs have not proven particularly effective in governing the police,' he said, '40 per cent of them have ended up costing the taxpayer more than the authorities they replaced. Giving them control of fire services would be a costly experiment.'
The general secretary concluded: 'Giving police and crime commissioners control of the fire and rescue service is a stupid and dangerous proposal.
'It is not supported by firefighters or by local communities and the decision to proceed down this road is a remarkable departure from a government which claims to be committed to 'localism'.'
For more on PCCs visit The MJ (£).