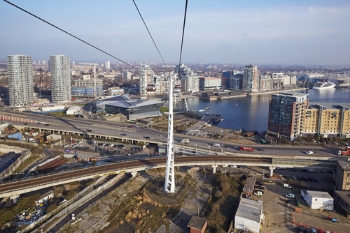 The Government today pledged £233m of infrastructure funding to drive the regeneration of one of the largest brownfield sites in London's historic docklands.
The Silvertown site in Newham, which sits within London's only Enterprise Zone at the Royal Docks, has been derelict for the last 40 years.
The new funding will enable infrastructure improvements around the site and will support The Silvertown Partnership (TSP), a joint venture between Lendlease and Starwood Capital, to build 6,000 new homes.
It will also support the creation of 1.8 million sq. ft of next-generation business workspace, alongside new space for cultural and community events and a new town centre for the Royal Docks.
Housing minister Stuart Andrew MP said: 'This major investment will revive London's historic docklands to deliver vital new homes, create jobs and boost the local economy with new state-of-the-art facilities.
'Our brownfield first approach is key to our levelling up mission - regenerating disused land in our towns and cities into places people are proud to call home.'
Peter Freeman, chair of Homes England, said: 'Our commitment to the Silvertown project is another example of how we can work with the private sector to bring forward large, complex sites and help to transform them into the places of the future.
'This infrastructure funding will enable The Silvertown Partnership to create new communities in the heart of East London and bring swathes of derelict brownfield land back to life.'
The Mayor of London, Sadiq Khan, commented: 'I am delighted to see work getting underway at this landmark East London location that has vexed planners and politicians alike for the last 40 years.
'The regeneration of this area is long overdue and I'm excited by the plans for Silvertown which respect its past whilst embracing East London's vibrant and creative future.
'Not only will this project create a vibrant new neighbourhood with 50% genuinely affordable homes but it will also create highly skilled jobs while supporting the regeneration of the Royal Docks as we build a better, fairer and more sustainable city for everyone.'