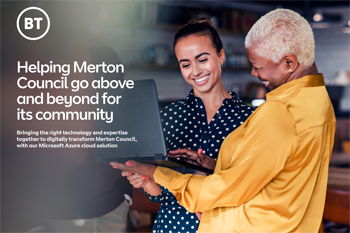 Bringing the right technology and expertise together to digitally transform Merton Council
How did Merton Council transform its day-to-day technology?
Local government often perform an elaborate balancing act. There's pressure to cost save wherever possible, but also to find new ways of delivering more for the community. And that's aside from constantly improving the quality of public services, law enforcement, care services, waste disposal and social housing.
Delivering all of this to the high standard expected by the public doesn't come easily; especially when outdated legacy systems could be holding organisations back. Merton Council found that it's hosted system just wasn't up to the job anymore, especially with the rise in digital demands due to the pandemic. Residents in the borough needed a reliable platform to access council services – like reporting bins not being collected and booking onto training courses. But the council's outdated web service was prone to outages and didn't come with 24/7 support. So, when it crashed, it could stay down over night or even entire weekends. And it wasn't just the public who were affected. Council workers were unable to access important files needed to help their fellow citizens. The old platforms, obsolete tech, and the outdated operating systems were not only struggling with demand but had become expensive and difficult to maintain.
Merton needed a new solution that would support the increase in online demand. And it needed to find a partner with the expertise to transition the service to a new public cloud platform. That's where BT stepped in.
Working closely with Merton every step of the way, BT moved the local authority to smarter cloud hosting with Microsoft Azure. The council also had BT's network of world-leading partners on their side and their combined expertise in designing and implementing cloud migration to Azure, made sure the transition was delivered at speed and in a way that worked for the council. The key wasn't just one technology or partner. It was about bringing it all together, seamlessly managing the collaboration from start-to-finish, to bring Microsoft Azure to Merton Council and meet the local authority's needs.
Now, Merton Council have more visibility and control over its tech and network. It has a secure cloud solution it can count on. And the ultimate digital test, the pandemic, proved that Microsoft Azure was the best decision. With most council workers being remote, the solution allowed them to access all files and collaboration tools using Azure. While the online portal gave citizens across the whole community a way to safely use services, without needing to visit in person or spend valuable time on the phone.
The council's IT team are benefitting too. Not only can they manage the systems more easily, but also scale them up if demand increases. Plus, they're no longer afraid to adopt new tech or make a change in case the system broke. Now Merton Council are thinking about the future and the opportunities that have opened up to them thanks to their new, agile tech solution. So they can better provide for their community, today and tomorrow.
To take a deeper dive into Merton's digital transformation, read the full case study here. Or get in touch directly to find out more bt.local.government@bt.com