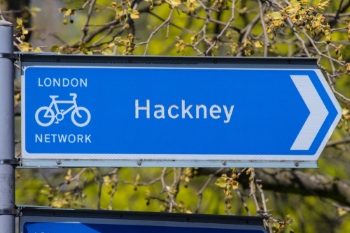 A funding bid by Hackney Council to close Stoke Newington Church Street to polluting through-traffic during the daytime has been approved by Transport for London.
The move, which follows engagement with residents in the Stoke Newington area in 2019, is part of the council's plans to improve air quality, and help people to walk, cycle and support local businesses.
As part of the plans, which are set to be introduced on 20 September, a bus gate will be installed on Stoke Newington Church Street. Buses, cyclists, pedestrians and emergency vehicles will be permitted to pass through.
The bus gate will be the first in the borough to allow Blue Badge holders with a registered companion badge to drive through at any time.
'Over a number of years we've been speaking to people in Stoke Newington about how we can improve Church Street and the surrounding area. During those consultations, people told us that traffic and pollution levels are too high, which is why we're introducing these plans,' said Cllr Mete Coban, cabinet member for Energy, Waste, Transport and Public Realm.
'I'm delighted to get the go-ahead from TfL on this scheme, which, as we recover from the pandemic, will support our communities to walk, cycle and shop in their local neighbourhood – helping local businesses in the process – and reduce traffic and pollution on Church Street, Albion Road and the surrounding area.'