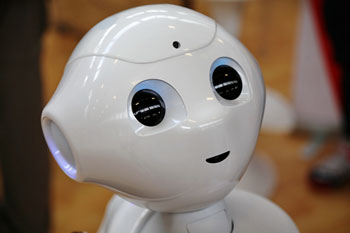 Back at the start of 2017, Arvato and the New Local Government Network (NLGN) think tank posed a somewhat tongue in cheek question to local government leaders – could a robot run a council? While the answer was a resounding 'no', the roundtable debate this prompted highlighted the extent of the progress and innovation already happening to improve services.
Attendees shared a range of examples from their own authorities. One council – having already become the first to implement a 24/7 web chat service for its citizens – was anticipating the use of virtual customer service assistants, chatbots. Another was focused on using analytics software to interpret data, created by digitising services, to inform its operational strategy.
For Arvato's part, we were able explain how rolling-out robotic process automation (RPA) in Sefton Council's revenues department has enabled us to develop new skill-sets with employees, while also making dramatic improvements to processing times and costs.
Almost 12 months on, these examples are becoming more commonplace and 2018 is set to see further growth in what is becoming known as 'Govtech'. This will bring with it implications for local government strategy, and my predictions and recommendations for what needs to be considered are as follows:
Authorities will need to maintain the human touch
The clear and well-documented benefits of introducing new technology aside, councils must continue to recognise the strategic importance of ensuring there is a human element in customer service. While all sectors are grappling with the right balance of automation and people, it's particularly relevant for public services, where dealing with exceptions to the rule forms a major part of what the workforce does.
Key to this is recognising that the effective use of technology and people aren't mutually exclusive. Successful citizen service strategies will use technology to empower workers, rather than replace them. Deploying RPA across council departments, for example, can be used to free-up teams from mundane, repetitive administration to concentrate on more complex value added and strategic work. Likewise, fielding frequently asked questions (FAQs) with chatbots, can reduce the costs of operating contact centres and direct customer service teams towards those citizens that need them most.
Training and recruitment must focus on digital skills
Local authorities will increasingly need to attract - and grow from within - the skills needed for employees to work in tandem with emerging technologies. Alongside strong communication and interpersonal skills, front line employees increasingly need to be very IT-literate and be able to quickly adapt to new ways of working.
That means focusing recruitment strategies in 2018 on digital skills, but also analysing and planning for how existing roles are likely to be changed by technology. Involving employees in the change process and delivering training in tandem with new investments will be key to successfully integrating these technologies.
Relationships with the private sector will continue to evolve
Our UK Outsourcing Index has continued to record high volumes of new public-private relationships being formed, with £723m deals signed in Q3, compared with £722m in the first quarters of 2017 combined. While this is the case - and with many of these featuring new technology at their core - the local government outsourcing market is undergoing a significant change. This will continue in 2018 and we will see councils continue to shift away from the large-scale multi-service partnerships of old towards more consultancy and technology-as-as-service based relationships. This will be driven by the private sector's expertise in these new technologies and the increased accessibility of new Govtech applications, such as robotic process automation (RPA), Blockchain and, eventually, artificial intelligence (AI).
John Wybrant, Key Account Director at Arvato UK & Ireland