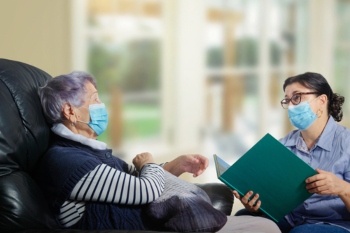 A new report has emphasised the importance of 'properly' rewarding care workers as figures reveal that adult social care providers are struggling to recruit and retain staff.
The annual 'The state of the adult social care sector and workforce in England' report from the charity Skills for Care has revealed that on average, 6.8% of roles in adult social care were vacant in 2020/21, which is equivalent to 105,000 vacancies being advertised on an average day.
Based on data provided by sector employers to the Adult Social Care Workforce Data Set (ASC-WDS), the report noted that the vacancy rate in adult social care has been persistently high at above 6% for the previous six years.
The turnover rates across the sector remain high, at 28.5% in 2020/21, the report found. This figure had decreased during the pandemic, but since March 2021 many employers report that retention is now more difficult than before the pandemic.
The turnover rate was particularly high for registered nurses at 38.2%, much higher than for their counterparts in the NHS (8.8%).
'This report is a stark reminder that our recruitment challenges continue, and to help tackle that we need to properly reward and value care workers for their high skill levels and dedication,' said Skills for Care CEO Oonagh Smyth.
'We know that this is a priority for the new Government White Paper expected on adult social care this year and look forward to seeing the measures contained.'
In 2020/21 the number of adult social care jobs increased by 2.8% (45,000 jobs). The vast majority of this increase was in domiciliary care services which increased by 7.4% (40,000 jobs), according to the report's findings.
The total number of direct payment recipients employing staff has remained stable (at around 70,000, and 130,000 jobs) since 2014/15.
Social care workers from a Black, Asian or minority ethnicity make up 21% of the total workforce with 82% female and 27% aged 55 and over.
The National Living Wage (NLW) has contributed to a 6% increase in the median nominal care worker hourly rate from March 2020 to March 2021.
However, according to Skills for Carers, employers have found it more difficult to maintain differentials for more experienced workers, care workers with five years plus experience in the sector are paid just 1% more per hour than care workers with less than one year of experience.
Responding to the report, ADASS chief executive Cathie Williams said: 'Working in social care or social work is incredibly rewarding, skilled and essential, however low pay, high turnover and alarming vacancy rates were all too common in the adult care workforce before the onset of COVID-19.
'The pandemic did little to ease these pressures and the trends are now worsening again. Our workforce is exhausted and nothing has been done to ensure that staff feel both recognised and rewarded for the essential work they do. At a time when other sectors are offering golden hellos and significant wage increases, adult social care is being left behind.
'The Government must use the upcoming Spending Review to invest in adult social care and our brilliant staff. Without that investment we are facing an incredibly difficult winter as the gaps grow and more people will miss out on vital care and support.'