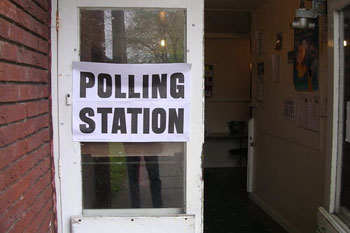 Care home residents will be allowed to vote in person in this week's local elections without having to self-isolate afterwards for 14 days, due to changes in Government guidance.
Care groups had previously called the situation a 'national scandal' that could stop half a million people from voting in person.
However, the updated guidance means that residents will be allowed to leave their care home for 'low-risk' visits such as taking a walk or to visit a family or friend's garden.
Residents will need to be accompanied by a member of care home staff or one of their nominated visitors, and visits will need to take place solely indoors. However, an exemption has been put in place to allow residents to visit polling stations on Thursday.
Prime Minister Boris Johnson said: 'We know how challenging this time has been for care home residents, so I am pleased that they can now leave their homes to reunite with their loved ones outdoors.
'With the data continuing to head in the right direction, and as restrictions ease, it is my priority to keep increasing visits for residents in the coming weeks in a safe and controlled way.'
Chief executive of the Social Care Institute for Excellence, Kathryn Smith, commented: 'Before the pandemic, choice and control was always recognised as key for all people who draw on care and support services, including in care homes; and this should still be what we aim to achieve. So these low-risk visits, where a follow-up quarantine is now not needed, are a welcome first step.'